News
A network of Moroccan skills, a priority, a strategic and royal choice…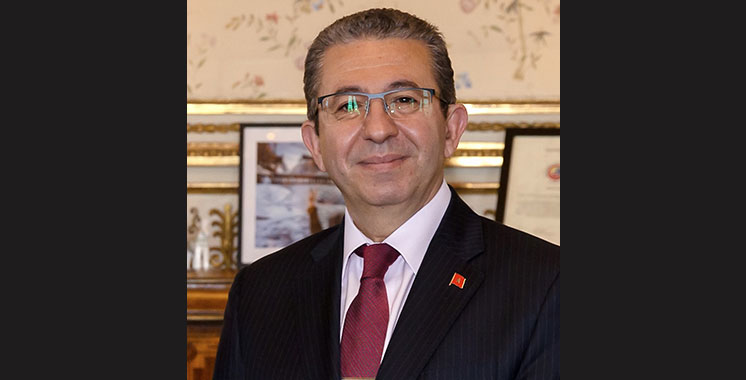 Interview with Karim Medrek, Ambassador of Morocco to Sweden
Karim Medrek, Morocco's ambassador to Sweden, has just created the network of Moroccan skills to respond to the royal desire to promote Moroccans around the world and unite them around a common point; that of conveying a positive image of Morocco. In Sweden, there are some 35,000.
And they have invested for most cutting-edge sectors thanks to their advanced level of higher education.
It is in this specific context that the representative of Moroccan diplomacy brought them together to first discuss, get to know each other and above all support the policy related to the Moroccan Label outside the borders. There is, moreover, a real desire between Morocco and Sweden to initiate new cooperation projects, which will take shape soon, particularly on issues related to climate, gender and sustainable development. Here are the words…
ALM: You have just created the first network of Moroccan skills in Sweden. Could you tell us more about the process already?
Karim Medrek: This approach is part of the very High solicitude granted by HM the King to the Moroccans of the World. Several royal speeches have devoted entire chapters to this important section of the population. It is therefore imperative that my mission, as ambassador to Sweden, includes the promotion of Moroccan human capital residing in the Scandinavian Kingdom. As soon as I took office last January, I got involved in getting in touch with Moroccans residing in Sweden, all social categories combined, regardless of their social or academic profile.
This contact initiative quickly took shape, through individual and collective meetings in different forms, and the feedback was very positive. Indeed, the Moroccans we met were very welcoming and very much appreciated our frank, sincere and inclusive exchanges which subsequently made it possible to prepare the ground for the launch of this skills network. I would like to pay a vibrant tribute to all my compatriots residing in Sweden for whom the innate love and unwavering attachment to the fatherland and its symbols are an immutable constant. I also take this opportunity to tell you a secret: I was moved to know that several skills had flown in for a return flight on the same day, just to attend the kick-off meeting, an unshakeable proof of their strong commitment.
How many Moroccans live in Sweden? And in what fields do they evolve?
It is difficult to predict the exact number of Moroccans residing in the Scandinavian Kingdom. Our consular services, however, estimate, based on several parameters, such as the number of registered at the consulate, passports, identity cards and other services, the number of Moroccans at 35,000, including 20,000 in Stockholm and 15,000 in other cities, including Gothenburg and Malmö.
The launch of the skills network revealed that the profiles of Moroccans residing in Sweden are very diverse… Their areas of expertise vary greatly, starting from medicine, artificial intelligence, nanotechnology, management, new technologies, research and development, fair trade, the green economy to fashion and sports. Today, Moroccans who have chosen Sweden as their residence or who were born there hold highly qualified jobs in cutting-edge sectors, which require an advanced level of higher education. Through my various contacts with the Swedish authorities and with several economic actors, I realized how much my compatriots are a source of pride for the Kingdom. They are respected and perceived as citizens who contribute to the economic and social development of their host country.
How did the idea of ​​creating such a network in Sweden come to you?
As I previously indicated to you, the creation of the network of Moroccan skills in Sweden has always been one of my priorities.
This idea was further reinforced when I was able to see firsthand how our fellow Moroccans are integrated into Swedish society and occupy positions that bring honor to the Kingdom. It was therefore time to see the birth, as is the case elsewhere, of a network of these skills which highlights their richness as well as their assets and which allows them to have a platform to contribute, in turn, to the influence and development of their country.
How can this mobilization represent an accelerating effect on the investments of Moroccans in Sweden in Morocco?
This network will serve, among other things, as a platform for information on the various opportunities and facilities offered by our country to its citizens residing abroad. This interactive platform will simplify the understanding of Moroccan administrative processes to encourage them to carry out projects in Morocco. However, this mobilization requires prerequisites relating to the revision of the mode of governance. It seems to me essential that the mobilization of our diaspora be concentrated on the development of scientific research, R&D and innovation activities. Moreover, and as recommended by the report of the Special Commission on the new development model, the Moroccans of the World will be able to help raise capital and develop new partnerships by being relays. Moroccan skills abroad represent a strong human capital and constitute an essential element for any company. Morocco needs today, more than ever, all these energies, their knowledge, their know-how, their expertise as well as the noble values ​​that they convey with the other members of their families.
What means are envisaged to ensure that the actions planned in this regard are effective?
It seems to me that the best tools to put in place for the success of any action are emotional and rational intelligence as well as communication. The first is necessary for this kind of exercise since we do not have to manage or supervise these skills made up of highly qualified profiles, overflowing with talent and patriotic. It would therefore be more appropriate to offer them support with legislative and regulatory means.
The second, which is just as important, refers to communication, in particular modern, targeted and useful. The latter will play a crucial role in this operation, which is part of an overall vision and a medium- and long-term strategy. As you know, after the royal speech, an inclusive reflection on a reform of the institutional framework is underway. In addition, the draft framework law forming the investment charter devotes facilities to members of the Moroccan community established abroad to encourage them to invest in Morocco.
On a completely different note, could you tell us about the bilateral relations between Sweden and Morocco?
Relations between Morocco and Sweden are marked by the depth of historical and secular ties and by a common desire to work together to strengthen cooperation in several areas, including renewable energies, where our country is positioned as a leader. Morocco and Sweden are on the same wavelength on several global issues, namely the climate, the gender issue and sustainable development. There is therefore a real desire on both sides to initiate new cooperation projects, which will soon take shape. Today, Swedish officials are aware of the role Morocco plays, thanks to the foresight of its leadership and the credibility of the Kingdom's actions on the international scene. In the context of this globalized world, I think we need to get to know each other well. In practice, it is about being aware of the opportunities offered on both sides, for the good of our populations.
What would be the different areas where Morocco could benefit from the transfer of know-how?
As I said before, research and development, artificial intelligence and its use in medicine, innovation and education, sustainable development and the culture of environmental protection represent areas, indicatively, where Morocco could benefit from Swedish expertise.
In your opinion, how could such a skills network support this?
Such a network will be, first and foremost, dedicated to Moroccan skills. It will serve as a space for dialogue and exchange where they will have the latitude to manage it, on the basis of communication, information sharing and solidarity, and according to their needs and priorities.
Listening attentively to the needs and ideas of this dual-cultural elite is therefore a necessary prerequisite. They are highly qualified executives who are aware of their scientific and intellectual capacities and who fully assume their dual affiliation. This dual membership that Morocco has always defended today constitutes a lever for these fully integrated skills to contribute to the development of their country of origin while continuing to work in and for the host country. This network, once mature and well structured, will lead to the organization of activities and the implementation of projects to be agreed according to the objectives set and the potential available. The roadmap that such a platform will set itself will undoubtedly concern initiatives here in Sweden but also for the benefit of the Kingdom.
Among the objectives of this network are the constitution of a pool of Moroccan-Swedish skills, the contribution to the exchange, transfer and development of skills between Sweden and Morocco as well as the support of any citizen action which consolidates living better together. As a result, support could take several forms, ranging from the organization of consulting missions, face-to-face or distance training modules, contribution to the creation of partnerships in scientific research, to the creation of joint ventures, etc.
What mechanisms have you planned precisely to be able to measure the impacts of such a network?
As I specified, it would above all be a question of support, once the structures of the network have been put in place by the skills themselves, I think that they will have sufficient maturity to provide for indicators of "performance ". This is why the appropriation of this network by its members is fundamental. Then quantifying the impact will be easy insofar as the work that will be accomplished will be subject to periodic evaluation.
The final word perhaps….
Moroccan skills in Sweden have clearly shown their desire to put their know-how and expertise at the service of their country. It is therefore our duty, in turn, to put in place a strong and regular communication action to first explain the regulatory and procedural framework and provide useful information on both investment opportunities and scientific research. It will then be a matter of continuing efforts to consolidate and strengthen cultural and immaterial ties with this important part of the Moroccan population. This will require a revision of the cultural offer while consolidating and federating the main institutional actors. I remain fully confident that this network will contribute to the efforts of the other networks already in place and will succeed in creating a necessary and imperative synergy in order to develop collaborative practices and collective intelligence.