News
Abdessamad Ezzalzouli, one last match with Barça and then leaves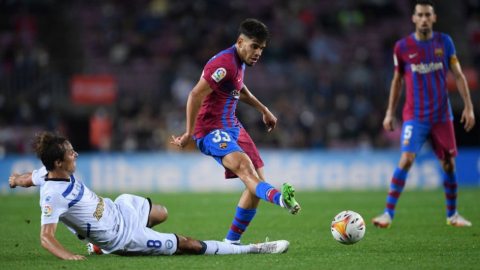 Abdessamad Ezzalzouli will play one last match with FC Barcelona before joining the Atlas Lions in anticipation of CAN 2021.
Despite Spanish pressure, Abdessamad Ezzalzouli will join Vahid Halilhodzic's group who will travel to Cameroon to take part in the 2021 African Cup of Nations. The FC Barcelona winger will be among the late arrivals to join the national team.
Indeed, the young Atlas Lion will take part in the match against Mallorca on January 2, before joining the group of Vahid Halilhodzic. Moreover, following a CAF-FIFA agreement, international players affected by the CAN will be able to play with their club until January 3, as announced on Sunday by the world body.
Read also: CAN 2021: CAF-FIFA agreement for a delay of the internationals of Europe
A good opportunity for the native of Beni Mellal who takes advantage of the absence of certain executives, such Ansu Fati, to benefit from a significant playing time with the Blaugrana.
Moreover, the Spanish media are continuing their pressure. Mundo Deportivo advance this Monday that Ezzalzouli could completely lose his place if he leaves in January with the Moroccan selection. The Catalan newspaper says the player faces a hell of a dilemma and that a long absence could take him out of Xavi's squad dynamic.
Read also: CAN 2021: the choice of Abde Ezzalzouli still does not pass in Spain
Remember that Abdessamad Ezzalzouli is called for the first time with the A team of Morocco. CAN will be his first major competition with the Atlas Lions. Everything indicates that the young player will respond to the call of the national coach, he who has always dreamed of such a reward.