sport
Adel Taarabt's Benfica part ways with coach Jorge Jesus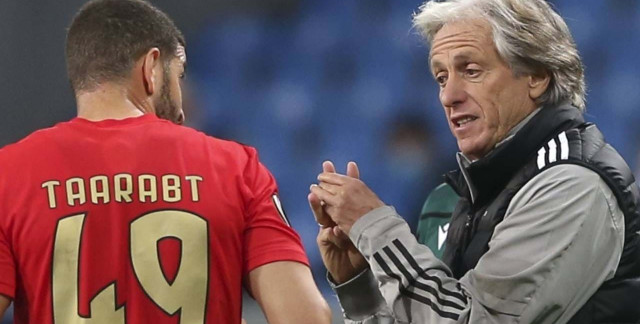 Benfica Lisbon have parted ways with coach Jorge Jesus amid poor results and a rift between the 67-year-old manager and his players, the club announced on Tuesday.
Benfica and Jorge Jesus have reached an agreement "for the termination of his sports employment contract with immediate effects", the club said in a statement, specifying that the reserves coach, Nélson Verissimo, will replace him "until the end of the season ".
Even if Benfica managed to narrowly qualify for the knockout stages of the Champions League, along with Bayern Munich and at the expense of FC Barcelona, ​​this month of December was marked by poor results in the national league.
The final defeat at home against Sporting Portugal (3-1), their Lisbon rival and reigning national champion, was a blow to Jorge Jesus' team, who saw the gap separating them from the co-leaders Sporting and Porto widen to four points.
The elimination in the knockout stages of the Portuguese Cup, with another humiliating failure suffered last week at FC Porto (3-0), further destabilized Benfica, who the day before had to deny rumors of an agreement between Jesus and the Brazilians of Flamengo for his return to the Rio de Janeiro club.
And while Benfica is set to challenge Porto again at the Dragon Stadium on Thursday, this time in Matchday 16 of the Portuguese league, Jesus has reportedly clashed with one of the locker room heavyweights, Portugal international Pizzi, local sports media reported.
After a first stint at Benfica between 2009 and 2015, the coach had already left the club on bad terms to join Sporting Portugal, his club at heart but hated rival of the "Eagles".
Jesus then enjoyed great success at the helm of Flamengo, with which he won five trophies in one year: the Copa Libertadores, the Brazilian Championship and Super Cup, the South American Super Cup and the Rio State Championship of Janeiro.
The coach, however, left the "Mengao" to return to Benfica in July 2020, explaining that he wanted to return to Portugal when Brazil was severely affected by the Covid-19 pandemic.