News
Aeronautics: Collins Aerospace plans to double its workforce in Morocco over the next five years
By Safae Hadri on 09/23/2022 at 4:22 p.m.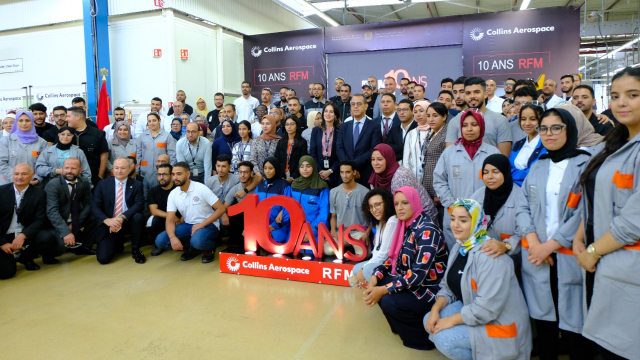 Collins Aerospace celebrated, Friday, September 23, 2022, its ten years of establishment in Morocco during a ceremony organized at the group's factory in Nouaceur.
© Copyright: DR
Present since 2012 in Morocco, the aeronautics specialist, Collins Aerospace, announced this Friday, September 23, 2022, its plan to double its workforce to meet the growing demand of the aviation market.
The American Collins Aerospace celebrated this Friday, September 23 its ten years of establishment in Morocco, during a ceremony held in the presence of the Minister of Industry and Trade, Ryad Mezzour, at the group's factory in Nouaceur.
Expanded by more than 40% since its construction in 2012, the Collins Aerospace site in Casablanca currently employs 135 people and plans to double its workforce over the next five years to meet the growing needs of aircraft manufacturers, the group said in a press release.
This plant carries out the final assembly and tests of cockpit and cabin equipment for commercial aircraft, such as mini-sticks, throttles, pedals, or door actuators.
"With the extension of the Ratier Figeac Maroc site, our strategic partnership with Collins Aerospace is further strengthened. Throughout the 10 years of its high value-added activity, RFM has contributed to densify the local supply chain and to the influence of Made in Morocco" declared on this occasion, Ryad Mezzour.
And to emphasize: "We will spare no effort to ensure that the group's supply ecosystem is highly competitive and allows the Moroccan platform to get in tune with global trends geared towards sustainable production".
"This celebration shows the success of our development strategy in Morocco and of the industrial plan (Best Cost, Best Quality, Best Delivery) that we have put in place between Collins Aerospace, major contractors, local suppliers, with the support from the Moroccan government", noted, for his part, Jean-François Chanut, vice-president and general manager of the Propeller Systems activity at Collins Aerospace.
Source link