News
ALARGAN International announces the inauguration of the Saray project
ALARGAN International announces the inauguration of Saray, its first mixed-use real estate project in Morocco, which extends over an area of ​​63,000 m² in the vibrant heart of the city of Casablanca.
This project is the fruit of the alliance between ALARGAN Développement Immobilier International, Messrs. Bernard Khoury, Lebanese architect of international renown, and Omar Alaoui, Moroccan architect with confirmed know-how, as well as his team.
For Khaled K. Al-Mashaan, CEO of ALARGAN International, Saray stands out for his dynamics and agility. "These two characteristics allow Saray to evolve according to the changing needs of its occupants. The idea took two years to germinate and the teams commissioned no less than 12 studies – between commercial and residential market studies, traffic analysis, studies of wind movement, and sunshine of the building – to perfect the concept and leave nothing to chance".
Saray is a pioneering project that gives pride of place to functional and recreational diversity for an ideal neighborhood living environment centered on people. Al-Mashaan specifies in this sense that the design of this place of life is the result of the combination of the perspectives of the various stakeholders of the project to create an island of life in harmony with the best standards of urban architecture.
In addition, the heart of ALARGAN International's vision for its projects in Kuwait and abroad is based on the ambition to contribute to the improvement of mechanisms for preserving the environment, controlling the impact of human activities on the environment and the promotion of sustainable projects based on clean energies.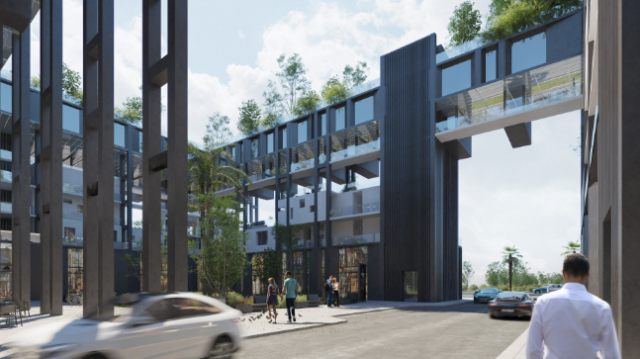 The Saray project by the ALARGAN group.
© Copyright: DR
This approach sets the framework for the innovation and development approach of ALARGAN International in Morocco. Moving away from any position of competition with historical national actors, ALARGAN International voluntarily adopts a position of co-development actor with local professionals to create value with virtuous projects. An approach allowing it to offer better living conditions and services to citizens, while contributing to the sustainable and reasoned development of the inspiring cities where the Kuwaiti operator invests.
For his part, Karim Yazbek, Acting Chief Executive Officer for North Africa at ALARGAN International, talks about the real architectural innovation that is Saray: "the project offers a perfect harmony between resolutely modern lines and a design inspired by heritage Moroccan for an optimal living environment and a limited impact of activities on the environment". He also adds that "Saray is an island for the Casablancais, nestled between the Mâarif district and the Ghandi boulevard, more precisely in the residential and dynamic district of the Princesses. The project confirms its remarkable architectural singularity as an exceptional real estate product that emulates in its unique and harmonious details the renewal and originality characteristic of the metropolis".
Indeed, Saray is establishing itself as a pioneering project locally and internationally. "By betting on developing Saray in the heart of Casablanca – where urban development projects are necessarily more complex and the land base more restrictive – ALARGAN International confirms its passion for the city and its center. This at a time when the majority of real estate development projects follow less restrictive patterns on the outskirts of Casablanca," concludes Karim Yazbek.
This choice also confirms the commitment to sustainability of ALARGAN International, which materializes with the environmental performance of the project. In this sense, Saray offers its inhabitants sustainable and clean mobility options thanks to its central location which promotes a "Walkability" index higher than the Casablanca standard. In addition, there are equipped terminals installed on site for the electric cars of future buyers.
Light is a central element in the innovative design of the project, which allows light permeability in all components and buildings bordered by green spaces thanks to the expertise of high-calibre architect Bernard Khoury and the Moroccan architect Omar Alaoui, recognized for his distinctive and unique designs in emblematic cities of Morocco such as Marrakech, Casablanca and Rabat and others.
In a joint statement, Bernard Khoury and Omar Alaoui say: "Saray was designed as a balanced living space that reconciles urban life with nature. A unique project with several components, it is made up of five-storey buildings with high-end apartments, offices, a contemporary hotel, shops and leisure areas".
The project also offers a 6,000 square meter terrace made up of three swimming pools -one of which is the longest rooftop pool in Casablanca-, restaurants, indoor and outdoor fitness areas, and equipment aimed at creating conviviality and sharing (yoga area, Chill & Lounge, etc.), in addition to apartments with hanging gardens and green spaces distributed with clever engineering.
The concept imagined by Bernard Khoury is therefore articulated around a unique architecture inspired by the Moroccan medinas, with their vibrant heart and their community spirit. This element of memory imposes itself as a red thread of this place of life, without taking anything away from its resolutely urban and modern architecture.
Within Saray, the conventional building now gives way to luminous and suspended dwellings. The apartments are freed from unique access thanks to a skilful set of walkways and alleys that allow owners to benefit from a private approach, for an entrance to their home that has nothing to envy to that of individual houses. Saray thus announces the era of an almost airy, suspended habitat, which brings to the city and to the buyers a unique and innovative landscape and experience. This atypical project, which extends over 63,000 m², reflects the singular attention and sensitivity that ALARGAN International gives to cities that carry history and heritage, such as the city of Casablanca.
"Saray is not just another real estate project that offers classic apartments, it offers a unique and unprecedented typology of hanging houses. From small studios to sky-villas, each resident accesses their home via a walkway or via their own garden. They are literally suspended houses, independent of each other, nested together and brought together by a unique synergy. This has never been done before, whether in Casablanca or elsewhere", conclude Bernard Khoury and Omar Alaoui.
About ALARGAN International
ALARGAN International specializes in the conceptualization and development of innovative and sustainable real estate projects in the Middle East and North Africa (MENA) region.
As a leading real estate developer with a diverse portfolio, ALARGAN International is committed to creating urban communities that serve as residential, commercial and mixed-use destinations, helping to ensure the economic and social viability of cities.
Since its founding in 1994, ALARGAN International's portfolio has grown to encompass projects in the hospitality, residential, retail, healthcare and education sectors.
For more information, visit www.alargan.com
Source link