sport
an armband against discrimination worn by several selections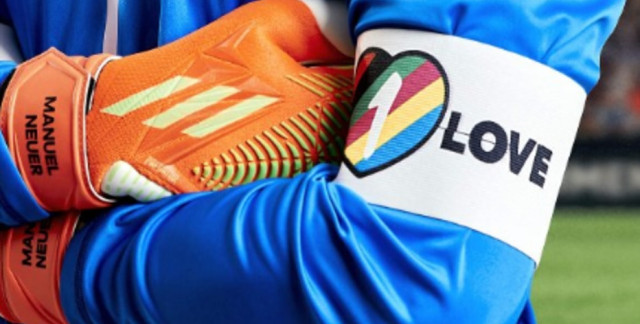 The captains of eight European selections, including world champion France, will wear an armband with colored stripes at the 2022 World Cup in Qatar in favor of inclusion and against discrimination, some federations announced on Wednesday.
Harry Kane for England, Hugo Lloris for France, Manuel Neuer for Germany… At the World Cup, the captains of major European football teams will have on their arm an armband with a heart filled with six parallel stripes, the colors of which differ from those of the LGBT flag.
The France team has not publicly confirmed its participation but other federations concerned have included the Blues in their communications.
"As captains we will challenge each other on the pitch, but we stand together against all forms of discrimination," said Englishman Harry Kane, quoted in a statement from the English Federation.
The German Federation clarified that the initiative, dubbed "One Love", came from a UEFA working group responsible for studying "issues relating to workers' rights and human rights in Qatar up to the World Cup". -2022″.
"The love of football unites us all, no matter where we come from, how we look or who we love (…) football must be there for all those who feel discriminated against and rejected", explained the German goalkeeper Neuer manual.
Also associated are the selections of the Netherlands, Wales, Belgium, Denmark, Switzerland, as well as Norway and Sweden, the latter two countries not having qualified, however, for the Cup. of the world.
The campaign will start on Thursday with Nations League matches.
The authorities of the small Gulf emirate are regularly criticized by NGOs for their treatment of migrant workers, particularly in the construction, security and domestic work sectors, as well as LGBT + people.
Accusations vigorously rejected by the authorities who emphasize having reformed labor laws, and by the Qatari organizers of the Mondial who ensure that members of the LGBT + community will be welcomed without discrimination, despite laws criminalizing sexual relations between people of the same sex in the country.