sport
an NGO challenges FIFA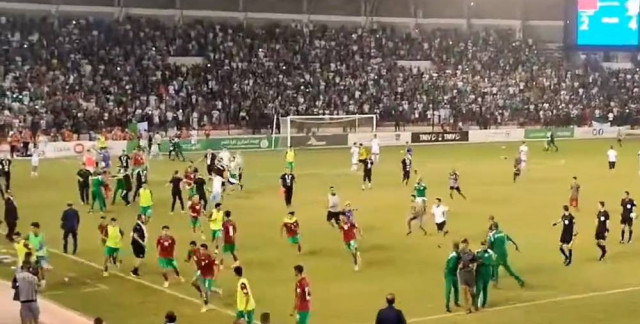 Following the barbaric attacks against members of the U17 national team during the Arab Cup final by Algerian players, officials and supporters, the "Touche pas à Mon Fils" association stepped up to demand an investigation by FIFA.
After having condemned these unfortunate incidents against young Moroccan sportsmen during the final of the Arab U17 Football Cup, a sport "which conveys values ​​between human beings, namely mutual respect, love, as well as friendship between peoples", the association "Touche pas à Mon Fils" demanded, in a press release, an investigation by FIFA into its events.
"The Touche Pas A Mon Enfant organization has contacted the highest international authorities responsible for football (FIFA) to open an investigation into this. The organization also considers that a football match between young of different nations must in no case exceed the framework of sport and fair play", can we read in the press release of the association.
"Our young people have been deliberately affected, and their physical integrity seriously threatened, the consequences of these actions are not only bodily but also emotional", is indignant, moreover, the association.
As a reminder, at the end of the final of the U17 Arab Cup played on Thursday September 8 in Algiers, the Lionceaux de l'Atlas who had lost the match after the penalty shootout were attacked by a crowd made up of supporters, players, and Algerian officials.
The Disciplinary Commission of the Arab Union of Football Association (UAFA) imposed on the Algerian Football Federation (FAF) a fine of 120,000 dollars (about 1 million 80 thousand dirhams) for the invasion of the field by the public, indicates a press release from this proceeding and of which Le360 holds a copy.
Likewise, the Algerian player Abdelhak Ben Idir was suspended for six months for his savage attack on the Moroccan goalkeeper.
The UAFA also sentenced the Royal Moroccan Football Federation (FRMF) to 25,000 dollars (about 266,000 dirhams) "because of the involvement of some Cubs in the fight", according to the said press release.
In a press release, the Royal Moroccan Football Federation protested against "unsportsmanlike events" and "barbaric attacks" suffered by members of the U17 national team.