News
André Azoulay on the late Houssein Miloudi: "One of the most beautiful lights in Essaouira has gone out"
By Tarik Qattab on 09/15/2022 at 8:47 p.m.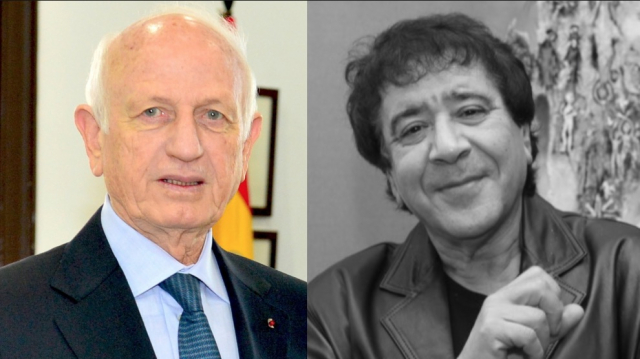 André Azoulay and late Houssein Miloudi.
© Copyright: DR
Reacting to the death of the late Houssein Miloudi, one of the greatest figures of painting in Morocco and of the city of Essaouira to which he devoted a real cult, the royal adviser, André Azoulay, had difficulty in containing his emotion. It testifies.
Died this Thursday September 15, 2022 at the military hospital in Rabat, following a long illness, Houssein Miloudi, an immense Moroccan painter, will be buried on Saturday September 17 in the Sidi Megdoul cemetery in Essaouira, the city where he was born. and where he lived. It will be after Addohr's prayer. His parents are buried in this cemetery and the artist wanted to be buried there.
Among his lifelong companions is the royal adviser André Azoulay. Contacted by Le360, André Azoulay struggled to contain his emotion, he who is generally more stoic.
The two men shared an unconditional and uncompromising love for the Cité des Alizés. Childhood friends, they were naturally and passionately complicit and inexhaustible on "Essaouira, the unfathomable, inexhaustible and almost obsessive muse of our most unbridled dreams", recalls André Azoulay, adding with sadness: "Houssein Miloudi was my absolute brother and irreducible in "Souiritude" and with his death, it is one of the most beautiful lights of Essaouira which has just gone out".
Source link