News
Anti-Covid-19 vaccine: the deadline for the booster dose in Morocco increases to 4 months instead of 6
Through Hajar Kharroubi the 12/29/2021 at 7:01 p.m.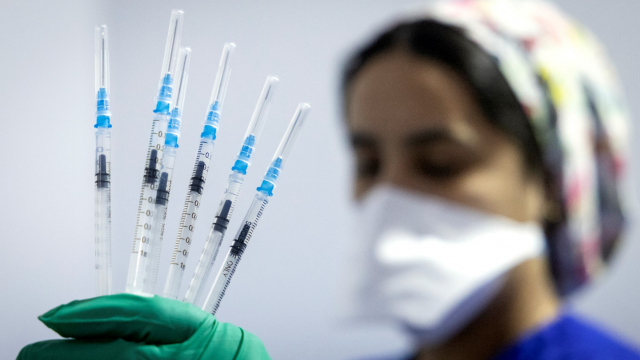 A caregiver carries syringes containing the Pfizer-BioNTech vaccine serum in her gloved hand in an anti-Covid-19 vaccination center, in the city of Sale, on October 5, 2021.
© Copyright: FADEL SENNA / AFP
The Ministry of Health and Social Protection announced, Wednesday, December 29, 2021, the reduction of the eligibility period for the booster dose to 4 months. The details.
In a press release released on Wednesday, December 29, the Ministry of Health and Social Protection indicated that the vaccine booster can be administered 4 months after the last injection of double-dose vaccine (Pfizer-BioNTech, Sinopharm or AstraZeneca) and 4 weeks after the single injection of Janssen.
The people concerned, adds the Ministry of Health, will receive an SMS on their phone from 1717 reminding them of their eligibility for this booster shot, which is done in all vaccination centers without any condition of residence address.
The Ministry of Health and Social Protection warns once again that the possibility of an epidemic relapse remains very likely, given the remarkable increase in the number of cases of contamination and epidemic outbreaks, in particular family.
The supervisory authority therefore calls on all citizens to speed up the taking of the first, second and third doses, by fully committing to take individual and collective preventive measures, including the need to wear a mask correctly, to wash their hands frequently or further sterilization with alcohol-based disinfectant, and avoid unnecessary gatherings.
Source link