News
At the UN, President Félix Tshisekedi accuses Rwanda of armed "aggression" in eastern DRC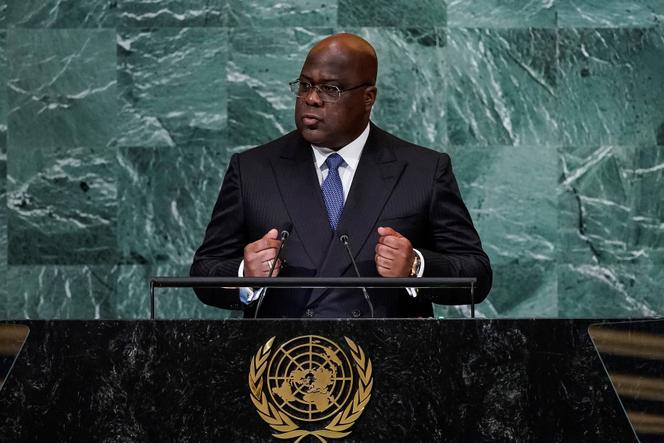 The president of the Democratic Republic of Congo (DRC), Félix Tshisekedi, accused the RwandaTuesday, September 20 at the UN," assault " military "direct" and D'"occupation".
"Despite my good will and the outstretched hand of the Congolese people for peace, some of our neighbors have found no better way than to thank us for the aggression and the support of the armed terrorist groups that are ravaging eastern Democratic Republic of Congo "launched President Tshisekedi from the rostrum of the United Nations General Assembly: "This is currently the case in Rwanda, which, in defiance of international law, the UN charter […] once again attacked the Democratic Republic of the Congo last March through direct incursions by its armed forces. »
Felix Tshisekedi pointed out the forces of Kigali which "occupy localities in the province of North Kivu by an armed terrorist group, the Mouvement du 23-Mars, known as M23, to which [le Rwanda] provides massive support both in war material and troops". He again accused the M23, "with the support of the Rwandan army"having " beaten down " in March a helicopter from the UN mission, Monusco, killed eight blue helmets and "thereby committing a war crime".
A Tutsi-dominated rebellion
In a forty-minute speech, the Congolese president castigated "this umpteenth aggression of which [son] country is victim of its neighbor Rwanda, under cover of a terrorist group called M23". "The involvement of Rwanda and its responsibility in the tragedy experienced by my country and my compatriots in the areas occupied by the Rwandan army and its M23 allies are no longer debatable"he hammered.
Eastern DRC is home to many armed groups that have been sowing death for almost thirty years. One of the most active is the M23, a former Tutsi-dominated rebellion, defeated in 2013, which took up arms again at the end of 2021, accusing Kinshasa of not having respected agreements on the demobilization and reintegration of its fighters.
According to a report by experts commissioned by the United Nations, consulted in August by AFP, the Rwandan army has "launched military interventions against Congolese armed groups and positions of the Congolese armed forces" from November 2021. Kigali denies supporting the M23 and has rejected these "invalid allegations". Rwandan President Paul Kagame is due to speak at the UN on Wednesday.
To not miss any African news, Subscribe to the newsletter from "World Africa" from this link. Every Saturday at 6 a.m., find a week of news and debates covered by the editorial staff of the "World Africa".
Source link