News
Barca 'outraged' by disclosure of information regarding Messi renewal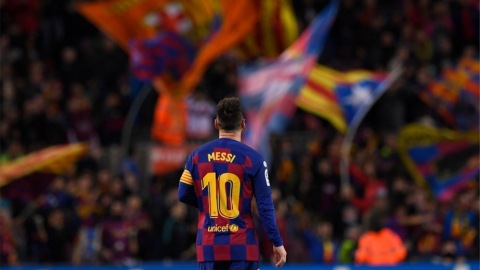 FC Barcelona expressed their "outrage" on Wednesday after Spanish daily El Mundo published information about the terms of Lionel Messi's 2020 contract renewal, which ultimately fell through.
In order to continue playing with the club of his heart beyond the end of his contract set for June 2021, writes El Mundo, the Argentine star would have accepted in 2020, in the midst of the Covid-19 pandemic, a salary cut of 20 %, but would have claimed to catch up with them over the next two years with interest (3%). He would also have claimed to receive a bonus of 10 million euros at the signing of the extension of his contract and to lower his release clause to the derisory and symbolic amount of 10,000 euros.
These demands are contained in emails exchanged between his father and agent, Jorge Messi, the player's lawyers and club officials, including then-president Joan Bartomeu, to which El Mundo had access.
"FC Barcelona expresses its indignation at the interested leak of information which is part of a legal procedure", reacted Barça in a press release, suggesting that it could file a complaint.
According to El Mundo, the player would also have asked for a box at the Camp Nou for his family and that of Luis Suárez, the support of a private flight for the Messi family to Argentina at Christmas or a salary increase in case of tax increases.
In June 2020, the newspaper recalls, Messi was paid "74.9 million euros (74 million dollars) net per year".
After several negotiations, continues El Mundo, Barça does not want to lower the release clause and refuses payment of the bonus of 10 million euros.
For his part, Messi is sticking to his positions. "At the end of August 2020, just two months after the last contacts, he had a certified fax sent requesting his departure from the club," writes El Mundo.
Barça lamented on Wednesday that El Mundo "boasts of having had access to a huge amount of documentation and emails that are in the possession of the Barçagate investigation" so, adds the club, that this information and this documentation "n have not yet been communicated to the parties".
The 'Barçagate', revealed in 2020 by Cadena Ser radio, involved the hiring of the company I3 Ventures to carry out a smear campaign on social networks against opponents of Bartomeu and figures such as Messi, Pique and the current Xavi coach.
The Catalan club claim the published documents 'have nothing to do with the investigation into the case and their use damages the club's reputation and confidentiality'.
"For this reason, and with the aim of protecting the rights of FC Barcelona, ​​the club's legal services are already studying the appropriate measures to take," concluded Barça.