News
Black notebook: death at 72 of Grichka, one of the two Bogdanoff brothers, stars of the 1980s
Through Le360 (AFP) the 12/28/2021 at 5.15 p.m.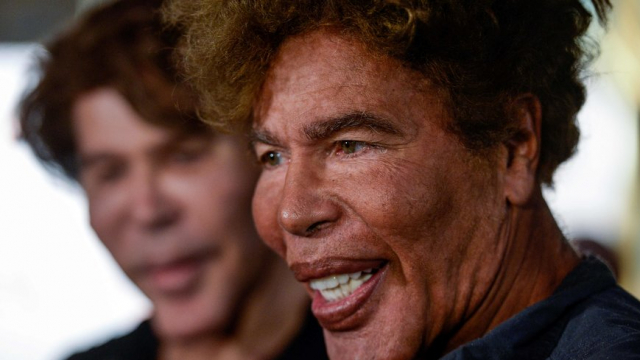 Grichka Bogdanoff (foreground) and her brother Igor, in 2018 in Paris.
© Copyright: Lucas Barioulet / AFP
Grichka Bogdanoff, one of the star twins of the 1980s, known for their atypical physical transformation and controversial scientific works, died Tuesday at the age of 72 in a Paris hospital, his agent told AFP.

"Surrounded by the love of his family and his family, Grichka Bogdanoff passed away peacefully on December 28, 2021 to join his stars," his family wrote in a statement sent by his agent.
Made famous in the 1980s by their science fiction show "Temps X" on the French channel TF1, where they evolved in a spaceship setting with their futuristic suits, Igor and Grichka had then become the object of mockery for their deeply transformed faces, which they themselves had called "extraterrestrials".
Their scientific works had also aroused controversy and they had drawn the wrath of part of the scientific community, criticizing the "low value" of their work. Recently, Grichka Bogdanoff had, with her brother, a project to cover their cult show "Temps X" with the Canal group.
Single, Grichka Bogdanoff had no children.
"I have just learned of Grichka's disappearance, I am really very affected. I will miss him very much. He was a boy of incredible intelligence and self-mockery that commanded respect. I have crazy memories with him. I think a lot about Igor and his family. Very sad ", reacted on Twitter the French host, Cyril Hanouna.
Much mystery still surrounds the biography of the twins who have encountered many legal troubles. They had thus been sent back in January to correctional for "fraud". The trial was due to take place on January 20, 21 and 27, 2022. The twins were accused of defrauding a millionaire with bipolar disorder to settle their financial woes.
They both appeared publicly on November 20, at the Salle Gaveau in Paris, to host a debate on the occasion of the publication of the best-selling book. God, science, evidence by Michel-Yves Bolloré and Olivier Bonnassies (Guy Tredaniel editions).
Source link