News
Burkina Faso: opening of the Dabo Boukary trial, General Diendéré denies any involvement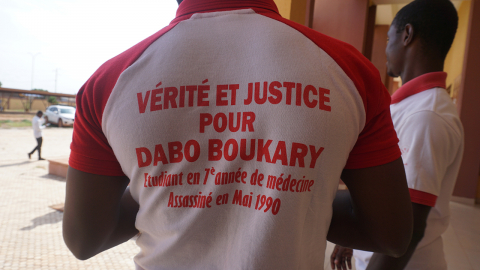 #Other countries : Prosecuted for complicity in the arrest in May 1990 of a group of students including Dabo Boukary, then a 7th year medical student, tortured to death while in custody by presidential security soldiers, General Gilbert Diendéré denies any involvement.
The Dabo Boukary trial opened on September 19 in Ouagadougou. A trial eagerly awaited by the families of the victims, 32 years after the events. The instruction already suggests a trial with multiple issues. "I believe that roughly speaking, what we will have retained is that the defendants have, as usual in cases like this, quite distressing positions. Because their narration of the facts does not resist any criticism, minimal objective analysis", declared Me Prosper Farama, one of the lawyers for the families of the victims.
>>> READ ALSO: Burkina Faso. Failed coup: General Diendéré prosecuted for "attack on state security and treason"
Prosecuted with two other soldiers, namely Mamadou Bamba and Magloire Yougbaré (absent at the trial), General Diendéré is tried for "complicity in illegal arrest and aggravated kidnapping, complicity in assault and battery resulting in death without intention of giving it and concealment of a corpse". For having been the commander-in-chief of the National Commando Training Center (CNEC) at the time, he faces a sentence ranging from 20 to 30 years in prison.
>>> READ ALSO: Burkina Faso. Failed coup: 20 years in prison for Diendéré and 10 years for Bassolé
"He spoke out on the questions put to him. He gave them the answers, which he actually experienced. He has remained consistent about what he knows, what he has done. What he did not do, he cannot explain in place of the others", retorted Me Mathieu Somé, counsel for General Diendéré.
For this third session of the hearing of the criminal chamber of the Ouagadougou Court of Appeal, the cases listed range from blood crimes to economic crimes. Also a wide range of offenses beyond the so-called emblematic files. The hearing continues on Tuesday. The objective of this procedure, according to the judicial authorities, is to bring to light the truth so that justice can be done for the victims.