News
Chaabi LLD unveils its new visual identity
By Ihssane El Zaar and Abderrahim Et-Tahiry on 09/21/2022 at 8:00 p.m.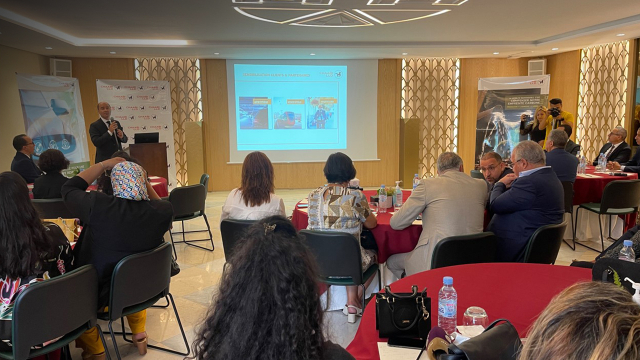 Chaabi LLD, a subsidiary of the Banque Populaire group specializing in long-term rental, unveiled its new visual identity on Wednesday September 21, 2022.
© Copyright: Abderrahim Et-Tahiry / Le360
VideoChaabi LLD, a subsidiary of the Banque Populaire group, specializing in long-term vehicle rental, unveiled its new visual identity on Wednesday September 21, 2022, articulated around a new logo and a new brand signature entitled "Together for responsible mobility".
The new signature of Chaabi LLD takes up a key element in the new identity of the Banque Populaire group, "Together", reflecting its commitment to its employees, its customers and all of its stakeholders. This new signature also confirms the resolutely united and sustainable orientation of the Chaabi LLD company, materialized from 2020 by the launch of the IMPACT 2023 strategic plan.
"Through this new signature, we wish to reaffirm our commitment to the environment. Today, Chaabi LLD implements several actions to limit the impact of our activity on this environment. We have materialized this through several projects, the first of which is Green Mobility, which sets up alternative modes of mobility through the integration of hybrid and electric vehicles", indicated Karim Mekki Berrada, Managing Director of Chaabi LLD, in a statement for Le360.
Karim Mekki Berrada said that Chaabi LLD has launched the "1 vehicle, 1 tree" operation, which aims to plant 9,000 trees equivalent to the company's vehicle fleet, adding that this initiative will be renewed each year. .
"The third action is a training and awareness program on road risks, Safety LAB, which provides customers and partners with training modules and animated videos. As well as a driving simulator aimed at developing the culture of road safety," he continued.
This roadmap, based on the three pillars of sustainable development -People, Planet, Profit- aims, in fact, to consolidate the positioning of the company Chaabi LLD as a reference player in its sector, not only by its commercial performance, but above all in terms of innovation and leadership in terms of sustainable mobility and respect for the environment.
Chaabi LLD also has a high-performance mobile application, CHAABI DRIVE, which allows its customers to manage their car fleet in real time and in complete safety.
Source link