News
CNSS: 34,982 regularized employees in 2021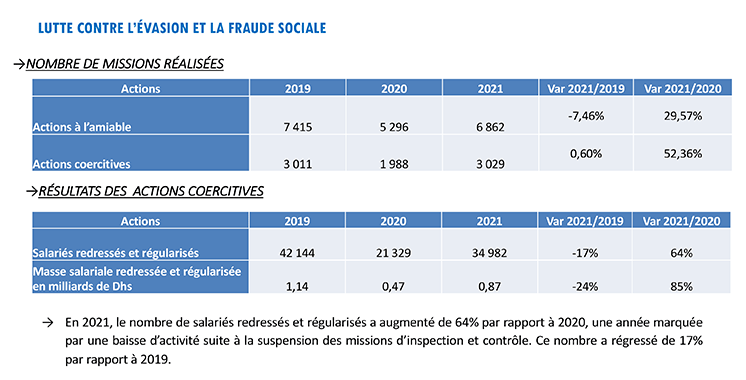 The Caisse carried out 3,029 coercive actions and 6,862 amicable actions

The National Social Security Fund (CNSS) tracks fraudsters. The CNSS has set up a system to fight against social evasion and fraud which consists of two processes, namely an amicable approach which advocates awareness and support through customer service managers under the network of agencies (prospecting in the field, follow-up by telephone and investigation of complaints from policyholders) and a coercive approach carried out by the corps of inspectors and controllers of the CNSS. In terms of the amicable approach, the CNSS carried out 6,862 actions in 2021 against 5,296 in 2020, an increase of 29.57%.
It should be noted that in 2019, 7,415 actions were carried out by the Caisse. Over the 2019-2021 period, there is a 7.46% drop in out-of-court actions. This is what emerges from the figures of the Fund appearing in the activity report of the General Scheme for the year 2021. In terms of coercive actions, the CNSS carried out 3,029 missions in 2021 compared to 1,988 in 2020, i.e. a increase of 52.36%. In 2019, 3011 coercive actions were carried out. These missions resulted in the regularization and recovery of the situation of 34,982 employees compared to 21,329 in 2020. Thus, this workforce increased by 64% compared to 2020, a year which had been marked by a drop in activity following the suspension of inspection and control missions. In 2019, their number had reached 42,144. The regularized and adjusted payroll amounted to 870 million dirhams in 2021 against 470 million DH in 2020, an increase of 85%. It should be noted that in 2019, it stood at 1.14 billion DH, which represents a drop of 24% compared to 2019.
3.49 million declared employees
The number of employees declared to the CNSS shows an increase of 5.4% compared to 2020, rising from 3.31 to 3.49 million employees, i.e. an achievement rate of 103%. Note that the average annual growth rate 2019-2021 is 3.2%. Female employees represent 33% of all declared employees in 2021. The number of declared employees on a monthly average reached 2.66 million in 2021 compared to 2.33 million in 2020, which represents an increase of 14%. The number of companies affiliated to the CNSS reached 294,148 in 2021 compared to 270,635 in 2020, an increase of 8.7%. The Fund specifies that 68% of declaring companies in 2021 employ at most 3 employees and 90% employ at most 10 employees. In 2020, 63% of them employed less than 3 employees and 87% employed less than 10 employees. The declared payroll increased by 13% between 2020 and 2021, rising from 150 to 170 billion DH.
24.5 billion dirhams of services provided
In 2021, the CNSS provided 24.5 billion dirhams in benefits (excluding AMO) against 22.9 billion dirhams in 2020, an increase of 6.91%. Long-term benefits represented 13.4 billion dirhams, up 6.89% compared to 2020, family allowances (9.9 billion dirhams, up 7.55%) and short-term benefits (1. 2 billion dirhams, up 2.28%). The total number of beneficiaries of benefits paid amounted to 2,261,576 in 2021 compared to 2,106,044 in 2020, an increase of 7.59%. Beneficiaries of long-term benefits amounted to 698,151 in 2021, an increase of 8.59% compared to 2020. This variation is mainly due to the increase in the number of beneficiaries of the reimbursement of employee contributions by 59% for the same period. As for the beneficiaries of family allowances, they amounted to 1,577,802 and in the short term (251,197). In terms of service payment deadlines, there is still work to be done. Thus, the average period for payment of pensions increased by 4 days, from 30 days in 2020 to 34 days in 2021. For the IPE (compensation for job loss), this period increased by 4 days from 59 to 63 days. On the other hand, the period of the daily sickness allowance (IJM) stabilizes at 19 days.