News
Collective lands in Morocco, the new wet firecracker of Forbidden Stories
After having liquidated its stock of false accusations on themes such as human rights or Pegasus in Morocco, the collective returns to the charge by serving up an old rehash, presented as an "investigation": collective land. What do we learn there? Nothing, if not the confirmation of a dismaying penchant for ease.
When they leave by the door, the tail between the legs, in view of the failure of their "investigations", it is to return by the window. This is the least to say about the relentlessness of the self-proclaimed group of investigative journalists Forbidden Stories on Morocco. They may have missed their "revelations" in the case of the Pegasus software, accusing Morocco of resorting to it while the Israeli publishing company, NSO, serves, among others, 22 customers in Europe, nothing has done. Of the 22 European countries, only Hungary has had citizenship in this organization headed by Laurent Richard.
As with NGOs such as Human Rights Watch, the Kingdom is a good client. Granted, but still there must be serious investigations into facts that would disturb, and really.
Continuing their efforts in what looks very much like a fixed idea, Forbidden Stories returns to us this time with a "complementary investigation" on collective lands in Morocco. Which investigation would have been started by a certain Omar Radi, condemned for rape. What do we learn there? Nothing new, except a long series of reminders implicating the Addoha real estate group around the Ouled Sbiha lands, and very strong ideas asserting this idea that there are evil predators on one side (the Makhzen, Moroccan capitalism , CDG, etc.), poor victims robbed of the other, and, in this specific scenario, a policeman from the Stock Exchange who complacently closes his eyes.
Of course, there are also the witnesses to the tragedy, always the same: Ahmed Reda Benchemsi and Aboubakr Jamaï, former journalists who are used to denouncing everything Moroccan. It's a pity that others are missing: for the cast to be complete, Moulay Hicham, Ali Lmrabet, Fouad Abdelmoumni, and those defrocked soldiers Mustapha Adib and Abderrahim El Mernissi would have been needed. There at least, we would have been entitled to the whole gallery. The formula is worn, but what to say when Forbidden Stories absolutely wants to use the same recipe, worthy of a fiction, while hoping for a result other than a real journalistic fiasco?
Forbidden Stories claims to have new elements, but even by reading and re-reading its "investigation", it is clear that the coup de brilliance is not there, except in the regret of a French resident on "spoliated lands" in question, transformed into luxury residences, Plage des Nations, but which lack, to the great displeasure of this so-called key witness… of grocery stores. If there hadn't been the columns of the French newspaper The world, all the same supposed to be a daily reference, which served as support for this "investigation", it would have been easy to believe that this is a novel-soap opera – less the suspense and the surprise twists and turns. But no! Forbidden stories is serious, at least that's what his team tries to make people believe.
More seriously, therefore, collective lands are indeed a real subject, which is closely followed, treated long, wide and crosswise by the media in Morocco, from the public audiovisual sector to those with private capital, which have been seized of the file for a long time and talk about it on a daily basis. The issue is debated in complete transparency in Morocco, both by the government team and by members of civil society… This subject does not conceal any hidden side, or any "sensitive underside". Foreign governmental bodies, such as the Millennium Challenge Corporation of the United States, are also providing valuable assistance in its resolution.
What Forbidden Stories fails to clarify, however (and this is definitely, for them, a real editorial approach), is that the origin of the problem of collective lands is… colonization, the French protectorate having exploited his way, for 44 years, the tribal lands. Activating levers today to put on the costume of a lesson giver, let's admit it's a tad light.
If the file is complex, Morocco and all its active forces are mobilizing to resolve it. Too bad if the very idea that the State is investing in mobilizing 1 million hectares for agriculture and that Moroccan capital is deploying to develop these lands through projects that create value and jobs, while safeguarding the rights of those who worked there, does not please, in the name of a paternalism as old-fashioned as frankly unhealthy. And when the real motivation of the promoters of this "investigation" is none other than the defense of an economic hegemony from elsewhere, and which no longer has any citizenship.
In any case, by typing with wet firecrackers, Forbidden Stories only sinks into discredit. By serving the reheated, the collective, whose founder boasts of being multi-awarded, risks no longer finding takers. The one who does not hesitate to display formulas like "They killed the messenger. They won't kill the message" on its website, with a call for donations just below, runs the risk of not only killing the massage, if there really is one, but also running out of donors.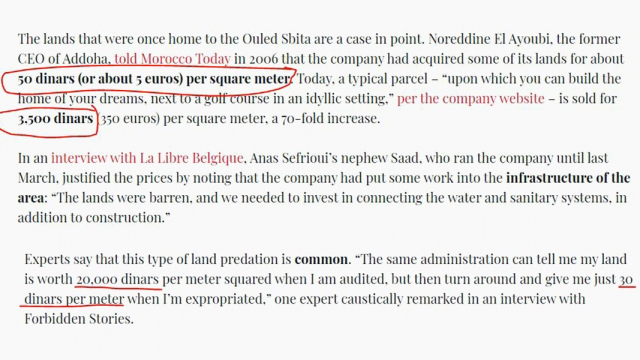 © Copyright: DR
And precisely, in terms of money, the English version of the famous "investigation" of Forbidden stories mentions Algerian dinars instead of Moroccan dirhams. The sale of "spoliated" land in Ouled Sbiha was therefore made in dinars. What astonishment!
Laurent Richard's team was certainly quick to correct this error, with the hints of a real slip of the tongue, which comes to betray with brilliance the foreign hands which participated in the making of this "investigation". Hands that have remained decidedly too attached to the currency of their country.
Source link