News
Covid-19: in the UK, up to 90% of patients in intensive care have not had a booster dose
Through Le360 (AFP) the 12/29/2021 at 5:25 p.m.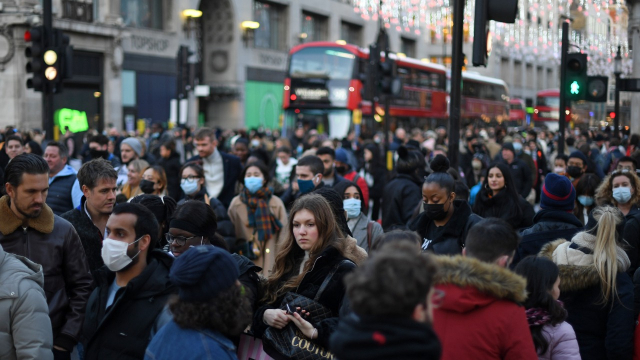 A compact crowd, some masked, crowd along Oxford Street in central London on December 4, 2021.
© Copyright: Daniel LEAL / AFP
Up to 90% of Covid-19 patients admitted to intensive care in the United Kingdom have not received a vaccine booster dose, explained Boris Johnson on Wednesday, December 29, 2021, once again ruling out any tightening of restrictions before the New Year. Images from the British Prime Minister's statement.
"I'm sorry to say this, but the overwhelming majority of people admitted to intensive care in our hospitals are those who haven't had a booster dose," the Tory leader said on the sidelines of a visit to a hospital. vaccination center.
"I have spoken to doctors who say that up to 90% of people in intensive care have not had a booster dose," he added, renewing his call for the population to receive an additional dose vaccine.
"If you are not vaccinated, you are on average eight times more likely to end up in hospital," said Boris Johnson.
Faced with a rapid spread of the Omicron variant, with a record of nearly 130,000 cases recorded on Tuesday in England and Wales, the United Kingdom launched a massive vaccine booster campaign which has already made it possible to administer an additional dose to almost 57% of the population over 12 years old.
The goal is to offer one to the entire adult population before the end of the year.
Building on the progress of vaccination, and despite rising hospitalizations, Boris Johnson has news on Wednesday ruled out tightening restrictions in place in England to curb the spread of the virus, unlike Scotland, Wales and to Northern Ireland, which closed nightclubs in particular.
"The Omicron variant continues to pose real problems, we see the increase in cases in hospitals, but it is clearly less virulent than the Delta variant and we can continue to proceed as we are doing", explained the leader. However, he called on the population to celebrate the New Year "with caution".
As of December 22, 8,240 people with Covid were hospitalized in the country, including 842 on a ventilator.
However, health authorities fear that despite a lower risk, the number of cases is so high that it puts insurmountable pressure on the hospital system, especially as a growing number of infected caregivers are being forced into isolation.
Source link