News
Ezzalzouli's loan a 'loss' for Blaugrana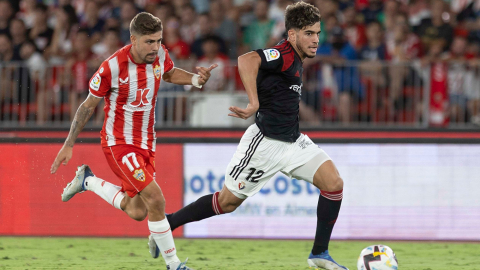 FC Barcelona transferred and loaned around twenty players during the summer transfer window. In their new clubs, some are doing well, others are struggling to assert themselves. Here is what it is about the Lion of the Atlas Abdessamad Ezzalzouli, loaned to Osasuna.
In its edition of this Thursday, September 22, the site sport.es takes stock of the players loaned and transferred by FC Barcelona during the last summer transfer window.
"Some footballers who were in the Barça team last season prove that there is life beyond the Camp Nou; others, on the other hand, find it difficult to play regularly and show their quality," writes the Spanish daily.
Among those who are doing well, the media cites the name of Abdessamad Ezzalzouli on loan to Osasuna for a year.
With his new club, the 20-year-old Moroccan midfielder has played three games out of the three possible and delivered an assist.
"Abde Ezzalzouli: one of the names that contribute to the great start of Osasuna's career. He only needed three games to be decisive and claim more continuity. Without a doubt, Jagoba Arrasate (coach of Osasuna) will benefit from the verticality and the passion of the Moroccan, who is growing by leaps and bounds, much more than he has done so far", comments sport.es which gives a good mark to the Lion of the Atlas.
In the La Liga standings, after six rounds, Osasuna is 5th with 12 points, six behind leaders Real Madrid.
Abdessamad Ezzalzouli is currently in Barcelona with the national team ahead of friendlies against Chile and Paraguay on September 23 and 27 respectively.