sport
Federer's last match, the twilight of an idol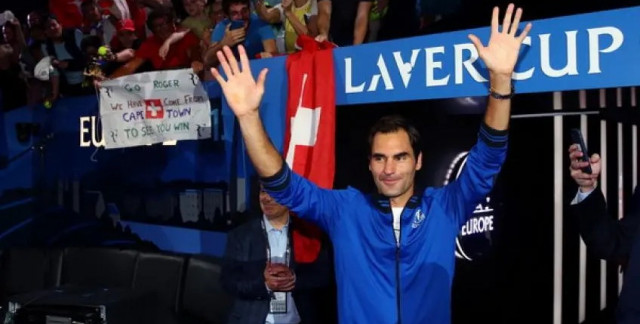 Adored by some, respected by all, Roger Federer will draw a line Friday evening on nearly 25 years of an exceptional career in tennis by offering himself as a farewell ball a double with the one who was his greatest rival, Rafael Nadal at the Laver Cup in London.
"I don't know if I could manage all that," admitted the Swiss on Thursday at a press conference, when asked if he feared the wave of emotions that would necessarily overwhelm him at different times of this single day.
"I've had tougher times in the past, I've been horribly nervous at times, all these years, before matches," he said.
With 157 career finals, including 31 Grand Slams, for 20 titles, ten at the Masters and even one – lost – at the Olympics, one might think he was immune to stage fright. But the fact that it never disappeared probably explains its unequaled longevity at the top.
"I could really come up every time and say + I hope to win this tournament + for, I don't know, fifteen years or more. It was a privilege", he also said.
– No more "endless days" –
While waiting for his final match, Federer will relive one last time the routines he loved as much as he hated them.
"I love tying my shoes, getting ready, putting on my bandana (around my forehead), looking at myself in the mirror (asking myself) 'Is it okay? Are we ready for this? OK, here we go!+. But even though I really like it, I'm glad I don't have to do it again," said the Swiss.
He also mentioned "the knots in my stomach, waiting all day, having breakfast and thinking I still had a big game tonight and, oh, there's 15 hours to wait. is nice but it's stressful and the days are endless".
Friday's will definitely be. He will only enter the competition in the evening session which will begin at 8:00 p.m. with a match between local idol Andy Murray and Australian Alex de Minaur.
During the afternoon session, in which he easily won the applause contest during the presentation of the teams which preceded the matches, his teammates did what was necessary to put him in the better arrangements.
The Norwegian Casper Ruud first overcame Jack Sock (6-4, 5-7, 10-7) before Stefanos Tsitsipas crushed Diego Schwartzman (6-2, 6-1).
Despite his late schedule, his last tennis match promises to be memorable, in doubles, alongside his "best enemy", Rafael Nadal.
"Tomorrow will be very special," also admitted the Spaniard on Thursday.
"One of, if not the most important player in my career is leaving. In the end, living this moment will be difficult. But of course, I am very excited and grateful to be with him," he continued.
– "Everything was perfect", assures Federer –
While appreciating the honor given them to play this unique match, their adversaries, the Americans Jack Sock and Frances Tiafoe, who will represent the Rest of the World team, have not lost their sense of competition. .
"It promises to be a more than cult evening and I'm proud to be there. We're going to enjoy the moment but we won't hold back, sorry Roger," Sock said, at the risk of spoiling the party.
"Whatever happens, these guys will not be the bad guys in the story," defended them in advance John McEnroe, their captain for the occasion. "What matters is celebrating everything Roger has achieved in his career. Who will win or lose, I think is totally secondary," he added.
After the match point, the result will quickly fade behind something much stronger mixing human, sport and history and sadness will not crush everything.
"You always want to play forever. I love being on the court, I love playing against guys, I love traveling. I've never found it difficult for me, whether I'm winning or learning from my defeats, everything was perfect, I loved my career," Federer assured.
"Everyone has to leave the competition one day. It will have been a really, really great adventure. And for that, yes, I am extremely grateful," he concluded.