News
Ferencváros, from the Mmaee brothers, surprises Monaco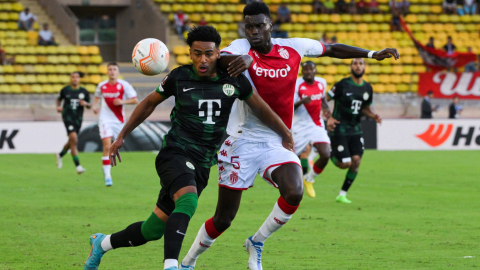 Absent in the first period, then dominating after the break, Monaco, lacking realism, was surprised on a counterattack, and lost at home against the teammates of the Mmaee brothers, Samy and Rayan, Thursday evening during the 2nd day of the Europa League.
The victory in Belgrade (1-0) last week was not improved. Blame it on a tasteless first period. The fault also with an inability to score despite great opportunities in the second period. Finally, the fault was a victorious volley from Balint Vécsei deflected by Ruben Aguilar at the end of the match (0-1, 80th).
With three points, Monaco sees the Turks of Trabzonspor, winner of Red Star Belgrade (2-1), steal second place in Group H. On October 6 and 13, Philippe Clement's men will no longer have the choice. It will take at least four points in the double confrontation against Trabzonspor, starting at home.
On Thursday, Ferencváros dominated the entire first half. All the statistics were favorable to the team of former Russian coach Stanislav Cherchesov who opted this evening for the tenure of the two Moroccan brothers Mmaee.
Like Youssouf Fofana, the Monegasques lacked dynamism. The neo-international offered few solutions in support of his team's offensives, such as towards Vanderson, author of a useless ride (43rd).
Alexander Nübel was even decisive twice. His flight allowed to deflect the good shot of the Malian Adama Traoré (32nd). Then, he was vigilant on the free kick of the Franco-Tunisian Aïssa Laïdouni (40th).
Jakobs vintage
This 3-4-3 Monegasque requires a powerful and good center forward, capable of physically challenging the opposing rear guard but also of serving as a relay for interior attackers like Aleksandr Golovin and Krepin Diatta in the first period.
The qualities of Wissam Ben Yedder hardly match these imperatives. Absent from the list of Blues announced a few hours earlier, the Monegasque captain also had a complicated match.
Yet he fought. After his recovery at the feet of Mats Knoester, he passed on to Golovin who, from the left, was as imprecise as usual (34th).
This possibility alone was not to Clement's liking. The Monegasque coach changed his entire right side at the break: the Aguilar-Akliouche pair replaced Vanderson-Diatta.
Maghnes Akliouche brought variety to the attacks. With the entries of Breel Embolo in place of Ben Yedder (65th) and Ismail Jakobs in place of Golovin (74th), Monaco, which multiplied the corners, seemed for a long time to be able to score. Badiashile missed (70th). Jakos, alone six meters away, hit the goalkeeper (74th).
Then, as often in these conditions, an opposing counter was decisive. The beautiful volley of the incoming Balint Vécsei was deflected by Aguilar. Nübel could not do anything (0-1, 80th). And Monaco has no more mattresses for the rest of the competition.