News
Gabon: Espoir Basket Club in battle order ahead of Basketball Africa League Zone 4 qualifiers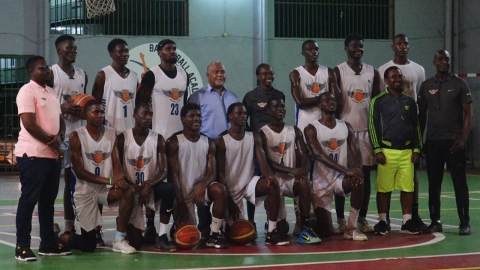 #Gabon : Sole representative of Gabon in the Basketball Africa League (BAL) qualifiers for zone 4, Espoir Basket Club is in the preparation phase in Libreville before the meeting scheduled for October 11 to 16 in Cameroon.
Espoir Basket Club (Espoir BC), recent finalists of the Gabon Cup, will be well and truly in the starting blocks during the first phase of the Zone 4 Basketball Africa League (BAL) qualifiers. Called Road to BAL, these qualifiers organized by the African regional office of the International Basketball Federation (FIBA Africa) will take place from October 11 to 16 in Yaoundé, Cameroon.
The Libreville club has been preparing its expedition to Cameroon for more than a week. "We have recruited the best players from Gabon. With discipline and hard work, anything is possible. We know the structure of the clubs that will come. We know what basis to work on. We rely on our strengths and our values ​​to win," says Mickael Oganda.
>>> READ ALSO: Burkina: AS SONABHY wants to regain its leading position in the promotion of basketball
This Gabonese participation is eagerly awaited by fans of the orange ball to gauge the national level. Lerry Essono, captain of the Libreville team, is aware of this: "We are ready and we are doing the best we can. We work with the means at hand. We approach this competition with enthusiasm. This is a first for the whole team. We will try to have fun and show that we play basketball in Gabon," he promises.
Espoir BC offers 5 training sessions per week. The technical supervision works on the cohesion of a young, talented and determined team to reach even the 3rd round in Cameroon. "We are quite ready mentally. We are also men like those we are going to face during the competition," says Mike Daniel Kounda-Kounda, club player.
>>> READ ALSO: Mali: African U18 basketball champions welcomed as heroines
These ambitions are largely in line with the vision of the Gabonese Basketball Federation which, according to the words of its president Willy Conrad Asseko, will spare no effort, like the accompaniment of the sponsor of the Gabon Cup, to get up to speed side of its ambassador to better represent the country in this first eliminatory phase.