News
Gabon: towards a probable indictment of Guy Nzouba-Ndama in the case of suitcases of banknotes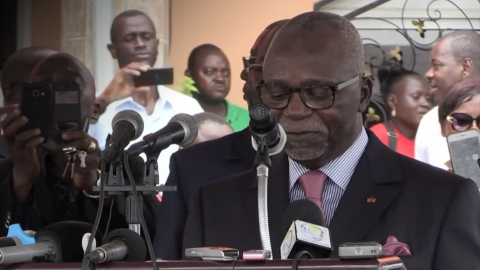 #Gabon : While several sources announced him free, Guy Nzouba-Ndama will not get away with it anytime soon. The opponent and former president of the National Assembly is now in Libreville, where he is heading for a probable indictment.
Arrested last Saturday at the border, coming from Congo-Brazzaville, the leader of the political formation Les Démocrates is on a tightrope. And for good reason, his refusal to justify the origin of the 1.8 billion FCFA found on him could aggravate these legal troubles, if this is not already the case.
"For having refused to declare the said funds and for not having been able to justify their origin, a report of irregular possession of the funds, an offense provided for by article 55 of the said regulation and punishable by article 470 of the customs code, was duly established by the competent customs services and the said funds were confiscated. the confiscated funds were transferred to the public treasury by the customs services, under the control of the Public Prosecutor's Office of the Republic", said a statement by the deputy prosecutor at the Franceville court, Ibinga Ayiquise Bléra.
>>> READ ALSO: Gabon: the former president of the National Assembly arrested with briefcases containing 1.8 billion FCFA
Heard until late Monday evening, Guy Nzouba-Ndama is now facing new charges. In addition to being accused of irregular possession of funds, he will now have to answer for the offenses of money laundering and intelligence with a foreign power.
The Nzouba-Ndama file is in a bitter taste in public opinion in the Gabonese capital. "It is right that we stop it. We can arrest anyone we find with so much money for a just country," thinks Arnold Akono, trader. "One can only be amazed. They make us believe that there is no money. But where does such a sum come from?" wonders the young student Alex Mba.
>>> READ ALSO: Gabon: "angry", President Ali Bongo dissolves the Ministry of Public Works
For Edgard Nzieembi Doukaga, journalist, the status of former baron of the regime can justify the origin of Guy Nzouba-Ndama's fortune. "The number of years he spent at the head of the National Assembly and the number of years he spent as a minister, but also the responsibilities he assumed elsewhere should not pose problem with the amount that was found on him," he said.
If found guilty of the charges against him, Guy Nzouba-Ndama risks several months in prison and a fine equal to twice the value of the confiscated funds, ie more than 3 billion FCFA.