News
Guinea: a writer takes stock of Mamadi Doumbouya's first year in power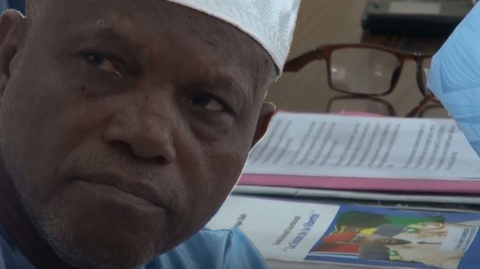 #Other countries : The Guinean journalist Alhassane Tangué Bah has just presented his new book entitled "Colonel Mamadi Doumbouya, the soldier of freedom". The 109-page book addresses several issues, including, among others, the reasons for the coup led by the current strongman of the country.
Alhassane Tangué Bah chose the opportune moment to present his book: the 1st anniversary of the coup that brought Mamadi Doumbouya to the head of Guinea. At the time of the balance sheet, the journalist and writer is very complimentary about the president of the Guinean transition. He thus saluted, during a press conference, the courage of Mamadi Doumbouya: "I was inspired by the sacrifice, the courage and the patriotism of the president, Colonel Mamadi Doumbouya. I think he is a patriot who really succeeded in liberating the country."
>>> READ ALSO: One year after the coup, Guineans between hope and frustration
According to the author, "we lived in a very difficult situation here, that's why we really have to praise what he did on September 5th. He is truly a man of courage, whom we must encourage and salute. Speaking of the results of the CNRD (National Rally Committee for Development, ruling military junta, editor's note), Bah believes: "Since his arrival, he has done enough good things. We now have a large hospital in Donka, we were able to complete this Coyah-Kindia-Mamou road…"
The former journalist especially wanted to recall the decisions taken by the authorities in Conakry to consolidate Guinean democracy: "As soon as the CNRD took power, the first thing, all the political prisoners were released".