News
Here are the 10 richest African footballers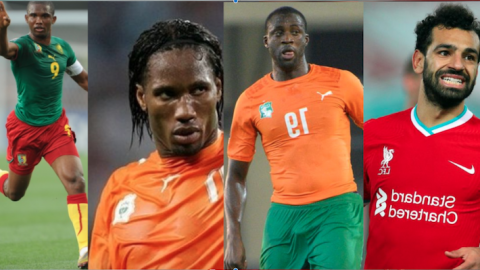 #Ivory Coast : The South African site Soccer Laduma has published the list of the 10 African footballers, in activity or having hung up their spikes, the richest on the continent. This ranking is largely dominated by West Africans.
Professional football allows players to enrich themselves through transfers, signing bonuses, salaries, advertising contracts and other bonuses. Some African footballers have garnered colossal fortunes during their careers.
Who are the richest active, or already retired, footballers in Africa? The South African site has tried to answer the question by establishing a ranking of the 10 richest players in Africa. These accumulate a total fortune estimated at 612 million dollars.
And according to this ranking, we can say that it is the West Africans who are the best off since they occupy 7 places in this top 10. And it is the Ivorians who are the most represented with 3 ranked players: Didier Drogba , Yaya Touré and Kolo Touré.
>>> READ ALSO: Cameroon: Eto'o offers a children's pavilion at Douala hospital
At the top of this ranking, we logically find Samuel Eto'o, one of the most successful players on the continent and all-time top scorer in the African Cup of Nations. The one who went through many big clubs (Barcelona, ​​Inter Milan, Chelsea, ..), and who benefited from an exceptional 3-year contract with the Russian club of Anji Makhachkala, which brought him around 24 million dollars net per year, is considered the richest player in Africa.
It must be said that in addition to being one of the greatest African players of all time, the current president of the Cameroon Football Federation (Fecafoot) is also a well-informed businessman. He has invested heavily in real estate in Spain and in many countries. He recently launched his online betting site. Besides being a businessman, Samuel Eto'o is also a philanthropist.
Also according to the South African site Soccer Laduma, the fortune of Samuel Eto'o is valued at 140 million dollars.
Far behind arrives his friend, the Ivorian Didier Drogba. The former captain of the Elephants is at the head of a fortune valued at $ 100 million. Like Eto'o, Drogba is also a philanthropist.
>>> READ ALSO: Coronavirus. Ivory Coast: Didier Drogba offers his hospital as a screening center
Behind these two giants of African football follows Yaya Touré whose fortune is estimated at 80 million dollars.
The three richest players on the continent are now all retired.
In fourth position comes the Egyptian Mohamed Salah, the continent's best active player whose fortune is valued at $ 70 million. The Egyptian, who still has many years of activity ahead of him, is expected to shake up the continent's top 3 in the next few years.
Top 10 richest footballers in Africa
| | | | |
| --- | --- | --- | --- |
| Rank | Lastnames and firstnames | Country | Fortune (in dollars) |
| 1st | Samuel Eto'o | Camereoun | 140 million |
| 2nd | Didier drogba | Ivory Coast | 100 million |
| 3rd | Yaya Toure | Ivory Coast | 80 million |
| 4th | Mohamed salah | Egypt | 70 million |
| 5th | John Obi Mikel | Nigeria | 45 million |
| 6th | Emmanuel Adebayor | Togo | 45 million |
| 7th | Kolo Toure | Ivory Coast | 40 million |
| 8th | Michael essien | Ghana | 32 million |
| 9th | Sadio Mané | Senegal | 30 million |
| 10th | Pierre-Emerick Aubameyang | Gabon | 30 million |
Note that of the 10 most rich players in Africa, only three are still active: Mohamed Salah and Sadio Mané from Liverpool and Pierre-Emerick Aubameyang from Arsenal.