News
In Somalia, drought and conflict unite for a new famine
To not miss any African news, Subscribe to the newsletter from "World Africa" from this link. Every Saturday at 6 a.m., find a week of news and debates covered by the editorial staff of the "World Africa".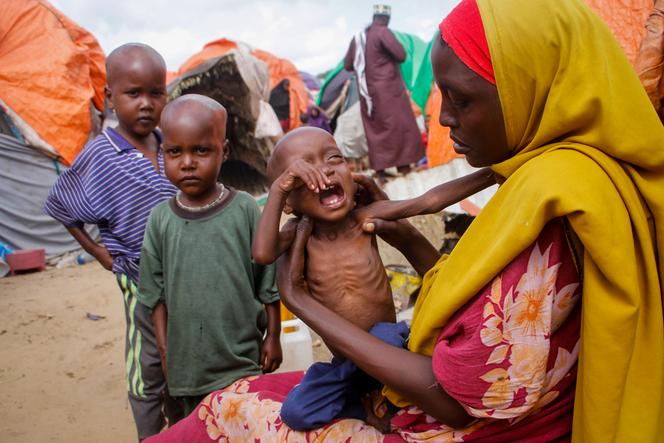 Has Somalia been synonymous with crisis for too long for the warnings issued by humanitarian agencies to seem almost inaudible? "Famine is knocking at the door, it's a final warning", warned Martin Griffiths, the head of the office for the coordination of humanitarian affairs (Ocha) on Monday, September 5, predicting a disaster of which nearly 300,000 people could be victims if food and assistance are not quickly delivered. 730 children died in nutrition centers in the first half of the year, according to the UN.
The continuation of the drought until the end of the year explains the grim prognosis of the United Nations. The regional meteorological center for the Horn of Africa, based in Nairobi, anticipates, between October and December, a rainy season still insufficient to ensure harvests and replenish pastures. If the coming weeks prove him right, this will be the fifth bad rainy season since 2020. A situation that has already pushed more than a million people – mostly women and children – to leave their homes to crowd into camps for the displaced on the outskirts of towns. In a large part of the country, the peasants could not sow. The herds were decimated. The United Nations estimates that by the end of 2022, 6.7 million people could face severe food insecurity, compared to 4.3 million people today. That is more than 40% of the population.
Late mobilizations
The financial needs to deal with this new crisis are now estimated at 1.5 billion euros, only 65% ​​of which are currently provided by international donors, led by the United States. This support is considered insufficient and especially belated by the humanitarian organizations, which have seen the situation deteriorate over the months. "The early warning system had identified the risk of famine in Somalia as early as December 2021, due to the rainfall deficit but also the persistent impacts of Covid-19 and the largest locust invasion in decades"recalls Iman Abdullahi, head of the office of the NGO Care in Mogadishu. "However, in April, the humanitarian response plan for the country was only covered at 4.4%. Funding increased from July when it became clear that several districts in the Bay region were heading towards famine, but in the meantime the needs had steadily increased beyond our capacity. and the crisis escalated.he says.
You have 60.15% of this article left to read. The following is for subscribers only.
Source link