News
Intelligence: Morocco and the United States on the same front
By Mohamed Deychillaoui on 09/20/2022 at 9:51 p.m.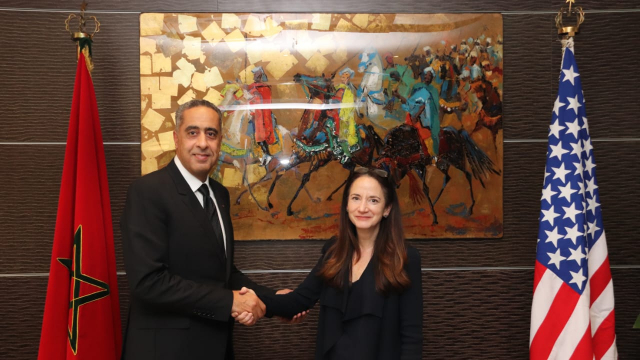 Abdellatif Hammouchi and Avril Haines, Monday September 19, 2022, in Rabat.
© Copyright: DR
Kiosk360. The Arabic-speaking press of September 22 returned to the visit to Morocco of the Director of National Intelligence of the United States, Avril Haynes, received last Monday in Rabat by Abdellatif Hammouchi. Round-up in this press review taken from three newspapers.
In its edition of Wednesday September 22, the daily Assabah explains that the threats and challenges resulting from the heightened tensions in many regions of the world have placed Abdellatif Hammouchi, head of the DGSN-DGST cluster, at the heart of the requests from the intelligence services of the world's greatest powers, confronted with the equation of connections between terrorist nebulae and organized crime networks (cross-border crime and cybercrime).
It is in this context, explains the daily, that a new high-level meeting was organized last Monday in Rabat between Abdellatif Hammouchi, head of the DGSN-DGST security unit, and Avril Haynes, director of national intelligence of the States -United of America. This meeting between the two senior Moroccan and American security officials is the second of its kind in the space of three months, when Hammouchi was received by Avril Haynes last June, during a working visit he made to the USA. .
Reporting this important meeting, the daily Al Ahdath Al Maghribia reproduced in extenso, in its edition of Wednesday, September 22, the press release issued by the DGST on the occasion of the visit of Avril Haynes. We learn that "this meeting is part of the extension of the implementation of the results of the high-level bilateral talks that Hammouchi had with the American official, on the sidelines of a working visit he had made to the United States on June 13 and 14, 2022". The strengthening of bilateral cooperation in the service of regional and international security and stability was also on the menu of discussions, adds the press release from the DGST.
Al Akhbar considers, for his part, that this new meeting reflects the very advanced level of the solid partnership that exists between the Kingdom and the United States, particularly in the fields of intelligence and security. Al Akhbar adds that the two most important American intelligence services, namely the FBI (Federal bureau of investigation) and the CIA (Central intelligence agency), are very satisfied and grateful for their fruitful partnership with Moroccan intelligence. And the newspaper recalls the episode of the last crucial helping hand provided by the Moroccan DGST to its American counterparts, by providing them with precise information which allowed the identification and then the arrest of an American soldier, member of the Daesh terrorist organization.
*
Source link