News
Iresen produces green hydrogen in Benguerir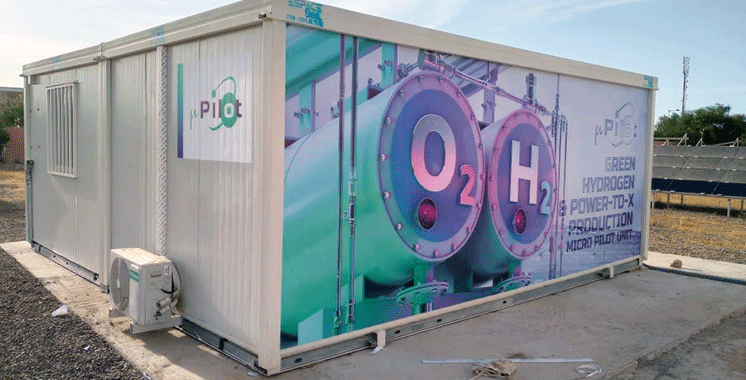 Iresen has just announced the "successful" completion of the installation of its first green hydrogen production system on a Micro-Pilot scale.
Developed as part of its "Power-to-X µPilot" project, this system consists of an electrolysis unit with a capacity of 20 kW coupled to photovoltaic (PV) solar panels. "This first electrolyser will be tested under variable load of renewable electricity. Incubated at the heart of Benguerir's Green Energy Park and in collaboration with our partner UM6P, the "Power-to-X µPilot" project will be equipped in its next phases with additional technological bricks, from the value chain of the energy sector. green hydrogen and its applications, commonly known as the "Power-To-X" sector," Iresen said in a press release, stating that the main interest relates to the production of green ammonia, green methanol, green fuels, but also, to aspects such as sustainable mobility and the storage of renewable electricity, using hydrogen and fuel cells.
"In addition to being a research and innovation tool, this Micro-Pilot will play a key role in the training and skills development of Iresen and UM6P staff and their partners in the ecosystem of the hydrogen in Morocco, namely the members of the "National Hydrogen Commission" and the "Green H2 Morocco" cluster", notes the same source. In this sense, students, young and experienced researchers, technicians, engineers and executives from the public and private sectors will be able to benefit from training programs adapted to their needs and to the technical and technological challenges faced by their respective structures. , as part of the deployment of "Power-To-X" projects in Morocco.
And that's not all. The Institute explains that this role could also be carried out at the level of the Middle East-Africa (MEA) region, by offering this training platform to partner countries, like the program of the "Middle East & Africa Clean Tech Academy" (MEA-CTA), recently organized by Iresen, the Green Tech Institute — GTI of UM6P in partnership with the Commissariat for Atomic Energy and Alternative Energies (CEAtech), the Hydrogen Center of Oman (OHC), the Regional Center for Renewable Energy and Energy Efficiency (RCREEE) and the Arab Fertilizer Association (AFA). Note that this project is part of the new technological platform dedicated to hydrogen and its applications – Green H2A, and its pilot projects, whose tripartite contract for its creation was signed between the OCP Group, UM6P and Iresen in November 2021, and which will take place within the OCP industrial site of Jorf Lasfar.