News
Local sourcing: LabelVie reaches a new milestone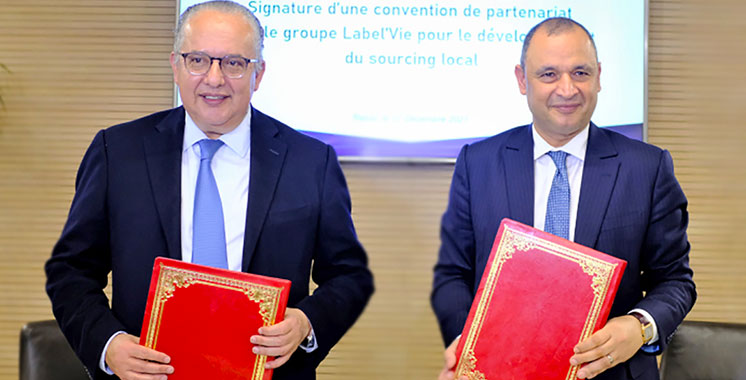 An agreement has been concluded with the Ministry of Industry and Trade
The Ministry of the Economy and Finance is continuing its actions in favor of the development of local sourcing. After Marjane Holding, the Ryad Mezzour department joined the LabelVie Group to set new commitments in order to meet the needs of the local market through a continuous process of import substitution. Objective: to develop local products and promote local manufacturing. "The trade has enormous potential that large and medium-sized stores contribute greatly to developing through local sourcing, allowing it both to become more competitive and to diversify its products in line with the needs of the increasingly demanding Moroccan consumer and the constantly changing export market ", reports Ryad Mezzour, Minister of Industry and Trade.
Referring to the Minister, the merger with LabelVie illustrates the common desire of public and private operators to improve the quality and international reputation of "Made in Morocco" by accelerating the integration of the Morocco offer into regional channels and by consolidating national exports as a lever for growth and development. The agreement concluded on Monday, December 27, sets specific objectives for LabelVie. In this regard, the Group will increase its Morocco sourcing of private label products to 80% for finished textile, agrifood, consumer products and plastic products. LabelVie is also committed to tripling its exports of "Made in Morocco" products internationally, particularly Africa and Europe. "As an economically and socially responsible player, the LabelVie Group confirms, through this public-private partnership, its anchoring in the national ecosystem to support the revival of the production sectors and consolidate their capacity for investment and creation of employment ", underlines Zouhair Bennani, Chairman of the Board of Directors of the Group.
The commitment made by LabelVie will be materialized in coordination with the Moroccan Association of Textile and Clothing Industries (AMITH), the National Federation of Agrifood (FENAGRI) and the Moroccan Federation of Plastics (FMP). In the same vein, an annual local sourcing plan from local operators in the target sectors will be put in place with the technical specifications requested and the targeted quantities.
It should be noted that support will be provided to the group for the establishment of partnerships with producers or carriers of national projects for its supply of local products with high consumption potential. The group will also benefit from the support programs set up by the ministry for the promotion of exports.
In addition, the local operators retained by LabelVie will benefit from the support of the ministry to meet the standards of the group, and this via the support systems in force.