News
Mohamed Bazoum, President of Niger: "Alassane Ouattara has been betrayed" in the case of the 49 Ivorian soldiers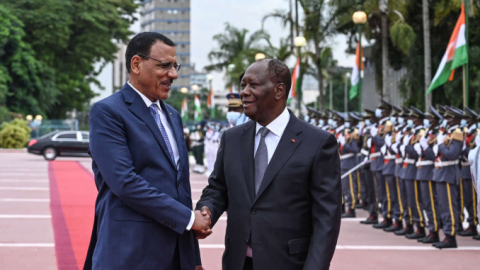 #Ivory Coast : According to Nigerien President Mohamed Bazoum, his Ivorian counterpart Alassane Ouattara was the victim of the "ingratitude of those who took advantage of the lifting of the embargo" against Mali.
Relations between Côte d'Ivoire and Mali, two neighboring countries with a long common history, are not looking good. In question, the Malian authorities arrested last July 10 49 Ivorian soldiers who, according to them, were "illegally" in Mali with the aim of "breaking the dynamics of the refoundation and securing of Mali". Described as "mercenaries" by Bamako, these soldiers are still being held in Mali, with the exception of the three women among them who have been released.
For its part, Abidjan has always rejected Bamako's thesis, now that the soldiers have been deployed in Mali as "national support elements" (ENS), a UN procedure allowing contingents of peacekeeping missions to peace of calling on external service providers for logistical support. To date, the Ivorian government continues to demand the release of its soldiers, but the Malian junta remains deaf to its demands, demanding in exchange for their release the extradition of three Malian opponents who have taken refuge in Côte d'Ivoire. We didn't leave the inn.
>>> READ ALSO: Military detained in Mali: "The negotiations will be completed shortly", according to the Ivorian staff
Pending the outcome of the mediation led by Togo through its president, Faure Gnassingbé, some important personalities have already spoken out on the case of the Ivorian soldiers detained in Mali, the latest to date is the president of Niger, Mohamed Bazoum . In an interview with RFI and France 24the latter gave his opinion on the Abidjan-Bamako showdown yesterday Thursday.
Deploring the arrest of the Ivorian soldiers, Bazoum says he finds this situation "totally absurd". Emphasizing that Alassane Ouattara was instrumental in lifting the sanctions of the Economic Community of West African States (ECOWAS) against Mali, he notes that the Ivorian president is "paid for by the ingratitude of those who have benefited from the lifting of the embargo". And to add: "I consider that he was betrayed."
>>> READ ALSO: Ivorian soldiers prisoners in Mali: "not mercenaries", assures the head of the UN
Before the Nigerien Head of State, his Bissau-Guinean counterpart Umaru Sissoco Embalo had also broached the subject of the 49 Ivorian soldiers at the microphone of RFI. "I don't think they are mercenaries. (…) In place of the Malians, I would have released these 49 soldiers", replied the man who is also the current president of ECOWAS.
Just before him, it was the Secretary General of the United Nations, Antonio Guterres, who confided on September 18, 2022 that the Ivorian soldiers are not not mercenaries. "It's obvious", he even insisted, before "calling on the Malian authorities so that this problem can be resolved".