News
New York: Morocco's African strategy, presented by Aziz Akhannouch at the UN forum
By Le360 (with MAP) on 09/21/2022 at 11:04 a.m.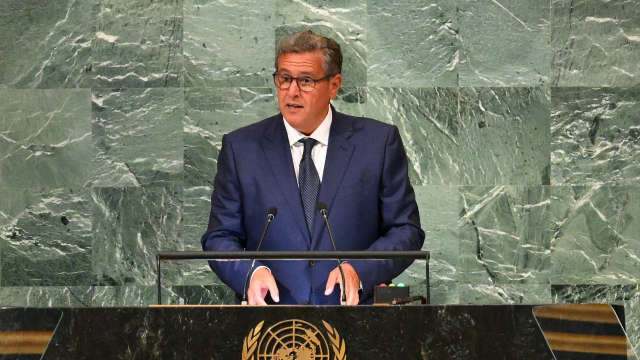 Prime Minister Aziz Akhannouch addressing the 77th session of the United Nations General Assembly, at UN headquarters in New York, September 20, 2022.
© Copyright: ANGELA WEISS / AFP
Morocco calls for the strengthening of international cooperation that serves African countries, in particular through debt relief and development initiatives to deal with current and future economic shocks, said the Head of Government, Aziz Akhannouch. , during the general debate of the 77th General Assembly of the United Nations.
The Head of Government, Aziz Akhannouch, recalled during the general debate of the 77e General Assembly of the United Nations, that the successive visits of King Mohammed VI to the various countries of the continent attest to this conviction through the launch of structural cooperation and partnership projects intended to consolidate sustainable development, ensure food security and promote economic development, with a firm commitment to inter-African complementarity.
The Head of Government also recalled the recent holding in Morocco of the 14e edition of the United States-Africa Business Summit, with the objective of boosting the flow of investments towards priority sectors for African countries.
In his statement on behalf of Morocco, Aziz Akhannouch pointed out that Africa was the continent that pays the heaviest price for the economic situation born of the current global geostrategic crisis, suffering the brunt of the increase in food prices. and energetic.
Such a situation jeopardizes Africa's achievements in terms of sustainable development, he lamented, while believing that the continent has the necessary potential to transform these challenges into opportunities given its human and natural resources, in addition to the prospects opened up thanks to the African Continental Free Trade Area (Zlecaf).
The Head of Government concluded his remarks by quoting the royal speech before the 28e African Union summit, in which the Sovereign had declared: "we, peoples of Africa, have the means and the genius; and together we can achieve the aspirations of our peoples".
Source link