News
Newrest in charge of collective catering for prisoners in five regions of Morocco
By Safae Hadri 09/21/2022 at 5:39 p.m. (updated on 09/21/2022 at 5:58 p.m.)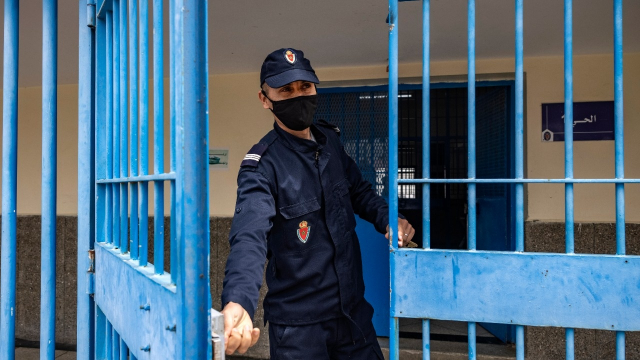 A guard at El-Arjate prison near the capital Rabat, May 26, 2021.
© Copyright: FADEL SENNA / AFP
Penitentiary establishments in five regions are changing collective catering providers. Newrest Maroc Services has just won a call for tenders launched by the General Delegation for Prison Administration and Reintegration.
It is Newrest Maroc Services, a subsidiary of the French company Newrest Group, specializing in collective catering in companies, schools and university hospitals, which will take care of the catering of prisoners in the regions of Rabat in the future. -Salé-Kenitra, Fez-Meknes, Souss-Massa, Laâyoune-Sakia El Hamra and Marrakech Safi.
Newrest Maroc Services has won the contract launched last August by the General Delegation for Prison Administration and Reintegration for the collective catering of prisoners in prison establishments in five regions of Morocco for a maximum amount of 490 million dirhams.
The new service provider is invited to source food products only from establishments approved or authorized by ONSSA in terms of health, in accordance with the legislation and regulations in force.
The call for tenders launched concerned two lots, the first was declared unsuccessful because of the incomplete administrative file of the tendering company. It concerned prison establishments in the regions of Tangier-Tétouan-Al-Hoceïma, Casablanca-Settat and the Oriental region. The second batch is the one won by Newrest Morocco.
Source link