sport
Ousmane Dembélé, the rebirth of the Barcelona will-o'-the-wisp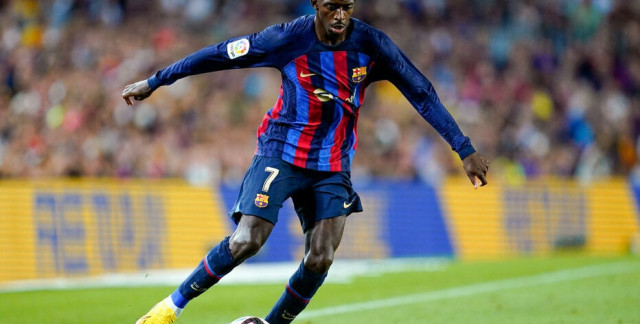 Impressive and finally regular with FC Barcelona, ​​Ousmane Dembélé finds the French team two months before the World Cup in Qatar and clearly applies to play his second World Cup in a row, after four years marked by injuries.
"He is practically at the level of the best Neymar". The compliment comes from his coach at Barça, Xavi, delighted to rediscover in recent months a twirling and efficient winger, already author of two goals and four assists in all competitions this season.
If Ousmane Dembélé "deserves his selection in the France team", according to the Spanish technician, it is because the 25-year-old former Rennais has finally found continuity in his performance, a rarity during his first four years in Catalonia. , where he arrived at a golden price from Dortmund (145 M EUR, bonus included).
This season, he has participated in eight Barça matches, including seven as a starter. And at the end of the previous financial year, it had already become essential, with only one game missed since the beginning of February.
The coach of the Blues Didier Deschamps could also have recalled Dembélé earlier, in March or June, but he preferred Moussa Diaby (Bayer Leverkusen) on these two gatherings.
In March, "DD" pointed out that the ex-Dortmund player was only in the "recovery" phase. And three months later, he had mentioned "a question of competition and use" to explain the absence of the winger, less comfortable in the 3-5-2 system that Deschamps used a lot. month.
"Involved"
But the regularity of Dembélé has logically finished convincing the coach for this comeback. And here is the striker again in the France group, a first since Euro-2021, where he was injured against Hungary in the first round.
With a heavy extra-sporting context (Pogba affair, ministerial audit at the FFF, etc.), Deschamps was not even invited to comment on the performance of the 2018 world champion when his list was announced on Thursday. . A sign, perhaps, that this return to Blue did not surprise anyone.
In Spain, in any case, it was self-evident. "He is involved and very committed to the club, he is a professional. Since I have been here, I have been very happy and satisfied to have him available. He generates a feeling of guarantee. When he receives the ball on his side, we know that a lot can happen", Xavi complimented him again on Saturday after the Barcelona victory against Elche (3-0).
Holder for this meeting, "Dembouz" had shown "a lot of commitment" according to his trainer, even though he had just spent the night in the hospital to attend the birth of his daughter, a few months after his marriage. in Morocco last December.
"He suffered a lot"
The revival of this ambidextrous striker, very technical and excellent in dribbling, comes after several years of doubt, marked by countless injuries and then a six-month soap opera on his contract, started by an ultimatum from his management in January and ended by an extension until 2024, announced in July, with concessions on his salary according to the local press.
"I'm happy for him. He's suffered a lot in recent years," Xavi explained recently. "Players like him, there are very few."
In the France team too, the trajectory of the "Mosquito" was far from linear, even if he was available – and called up – for the last two international competitions. Called up for the first time in September 2016, at only 19, he never established himself as a potential starter: out of his 27 caps (four goals), he only started ten times and Deschamps did not hesitate not to ask him "more consistency", over his various press conferences.
Appreciated within the group for his smile and his role as "moodmaker", Dembélé also finds Kylian Mbappé in Clairefontaine, to whom he is close. He also brings with him a lucky star: as a starter, he has never lost with the Blues.
By Le360 (with AFP)