News
R&D: the boost finally arrives for industrial SMEs
By Ismail Benbaba on 09/15/2022 at 8:45 p.m.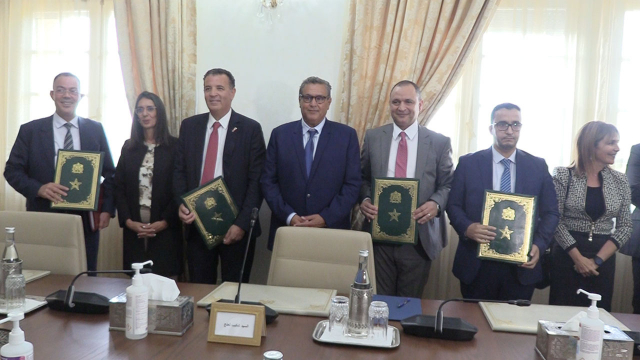 Ryad Mezzour, Minister of Industry and Trade, and the General Confederation of Moroccan Enterprises launched the Tatwir R&D and innovation program and signed the agreement under the chairmanship of the head of government, Aziz Akhannouch, on September 14 in Rabat.
© Copyright: le360
Kiosk360. The government wants to boost innovation and R&D by SMEs in industry. To do this, an envelope of 300 million DH per year has already been put on the table. This article is a press review of the newspaper Today Le Maroc.
In its publication on newsstands today, Today Morocco is interested in R&D and innovation of SMEs operating in industry. The daily thus tells us that with the aim of encouraging small and medium-sized enterprises to innovate, an agreement was recently concluded during a meeting chaired by Aziz Akhannouch, the head of government. We learn that the said agreement essentially concerns support for industrial innovation programs (Tatwir-R&D and Innovation).
Note that the objective is to give a boost to research, development and innovation projects proposed by SMEs and emerging companies operating in the industrial sector, in order to strengthen their competitiveness and improve their performance.
In detail, the daily points out that this program is structured around two components, the first of which concerns support and support for research, development and innovation projects of the companies concerned active in the industrial sector, while the second section concerns support for technological investment in its pilot phase.
"In terms of figures, the program plans to support 100 qualified projects, through support for the development and strengthening of invention patents, by absorbing 80% of the costs, up to an amount of 1 million dirhams. , in addition to support for innovation and development projects through a 60% contribution with a ceiling of 4 million dirhams", further specifies Today Morocco.
It should be noted that in terms of funding, this program will rely on the Innovation Support Fund (FSI). It should be noted that it was set up within the framework of the agreement signed between the State and the National Agency for the Promotion of Small and Medium Enterprises, with an overall financial envelope of 300 million dirhams annually.
For the government, this program offers a framework for supporting SMEs, so that they can deploy their energies and initiatives, by encouraging them to innovate and produce, while ensuring the necessary support and monitoring mechanisms.
Source link