sport
Regragui, Chebbak, the RSB… discover the winners of the first edition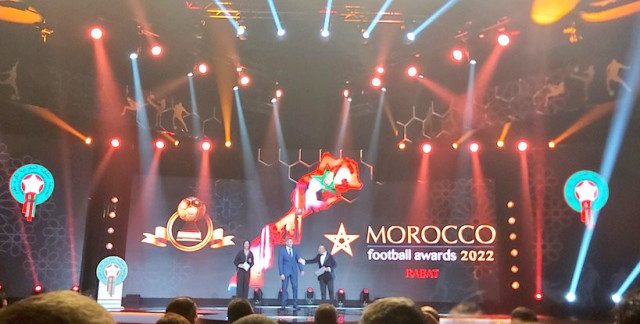 Moroccan football met, this Thursday, September 22, at the Mohammed VI complex, to honor its stars on the occasion of the first edition of the "Morocco Football Awards"
Wydad de Casablanca, reigning Moroccan champion and holder of the African Champions League, won almost everything at the "Morocco Football Awards 2022", organized Thursday at the Mohammed VI football complex in Maâmora (near Salé), in the presence of the elite of the national round ball.
The Red club, named best African club at the CAF Awards 2022, organized at the end of July in Morocco, was rewarded as the winner of the Botola Pro D1 INWI and dominated the individual prizes awarded during the first edition of this ceremony, organized by national football leagues (professional, amateur, diverse and women's).
Thus, the award for striker of the year was awarded to the former Congolese striker of WAC, Guy Mbenza (16 goals), who currently plays for the Saudi club Al Taï, the best coach was Walid Regragui, the best goalkeeper is none other than Reda Tagnaouti and the title of best player went to Yahya Jabrane.
The award for best goal of the year went to former Raja de Casablanca player Beni Badibanga, who currently wears the jersey of Belgian club RAAL La Louvière, thanks to his achievement during the classico against AS FAR, end of June, having offered the 2-1 victory to the Greens. Similarly, the title of best audience was shared by WAC and Raja.
Wydad was also rewarded for the best CAF performance, as winner of the Champions League, in the same way as Renaissance de Berkane, winner of the CAF Cup.
The Orange club also received a trophy for their victory in the Throne Cup, which they won at the expense of WAC.
Among the women, AS FAR particularly distinguished itself with the title of scorer of the year, awarded to Ibtissam Jraidi and that of best footballer, which went to Ghizlane Chebbak, the very one who was nominated for the title of best player of the year for the CAF Awards 2022.
Arbitration was also in the spotlight, with the title of best central referee, shared by Bouchra Karboubi and Radouane Jayed and that of best assistant referee, awarded to Fatiha Jarmouni and Zakaria Brinssi.
Speaking at this ceremony, Fouzi Lekjaa, President of the Royal Moroccan Football Federation, underlined that the year 2022 was exceptional, both at the level of the national teams and at the level of the clubs, thanks to the work accomplished daily by the various components of national football.
This ceremony is an opportunity to consecrate this work and make a new start towards other victories, in order to confirm Morocco's stature on the continental and international levels, he said, calling for more perseverance and professionalism to reach this goal.
This ceremony, marked by the presence of the Minister of Youth, Culture and Communication, Mohamed Mehdi Bensaid, saw the presentation of several other prizes for the best performances in amateur football, diversified football and women's football. .