News
Restriction of French visas: "a collective and unjust punishment", according to a hundred associations
By Ihssane El Zaar on 09/23/2022 at 2:41 p.m.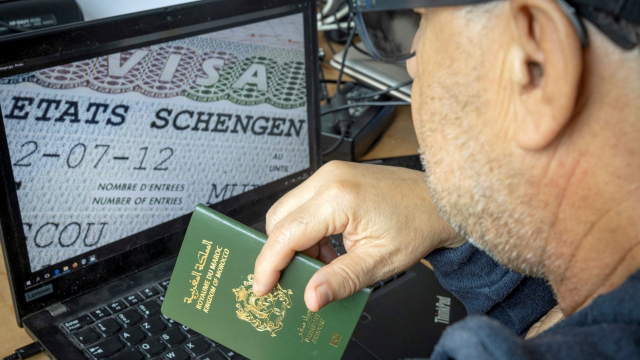 A Moroccan man holds his passport in front of his computer displaying a Schengen visa in the capital Rabat on September 28, 2021.
© Copyright: FADEL SENNA / AFP
About a hundred organizations and associations, from France and the three Maghreb countries affected by the restriction on the issuance of French visas, have signed a petition entitled "visa policy: discrimination and injustice". These organizations consider the decision of Paris as "a collective and unjust punishment".
Several Maghreb and French organizations denounce the decision of Paris to reduce the number of visas granted to Moroccans, Algerians and Tunisians and qualify this decision as "discriminatory", in a press release of which Le360 has a copy.
"Pretending to fight against irregular immigration by so drastically restricting the number of visas for citizens is all the more unacceptable since this erroneous political decision will not solve anything", underline the signatory organizations. They add that these measures push thousands of young and old to take crossings in the Mediterranean Sea at the risk of their lives.
"These measures are an inadmissible, dishonorable blackmail, which infringes an essential human right: the free movement of people, including those with their ties, both in France and in the Maghreb countries", deplore the same organizations. They also point out that this decision violates a principle of equal citizenship.
The organizations supporting this petition also denounce the heaviness of the Schengen visa application procedures issued by the French authorities and consider them to be a real obstacle course. In addition, they point out that they are extremely expensive and without reimbursement in the event of refusal.
"We ask the French authorities and European countries to reverse these discriminatory measures. We call on all democratic forces and civil society in France, in Europe and in the Maghreb countries, to mobilize to denounce this policy," continue the signatory organisations.
Among the signatory organizations of this petition is the Adala association for the right to a fair trial. Questioned by Le360, Jamila Sayouri, its president, underlines that the decision to restrict visas issued by France first attacks human exchanges.
She adds, moreover, that North Africans who wish to travel for tourism, for studies, for business or for health or family reasons, are excluded and deprived of this fundamental right.
However, Tunisians are no longer subject to these restrictions since the end of last August. The French and Tunisian Interior Ministers had announced, in a joint press release, the normalization by France of the issuance of visas in Tunisia.
Source link