News
Retro: many African presidents and ex-presidents passed away in 2021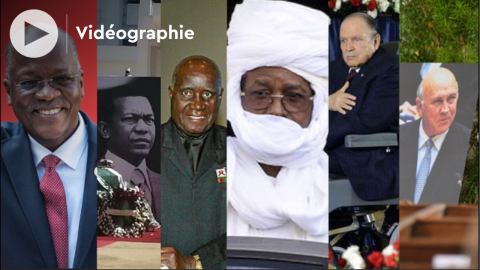 #Other countries : Two sitting presidents and several former heads of state died in 2021, making it one of the deadliest years for the continent's leaders and ex-leaders. Contrary to what one might think, the pandemic is not the only cause of this massacre.
Two African presidents died in office in 2021: John Magufuli of Tanzania and Driss Déby Itno of Chad. However, concerning the former presidents, 2021 was a real slaughter: Didier Ratsiraka (Madagascar), Kenneth Kaunda (Zambia), Hissène Habré (Chad), Abdelaziz Bouteflika (Algeria), Frederik de Klerk (South Africa), …
The list is far from exhaustive knowing that we have also recorded deaths of transitional presidents including Abdelkader Bensalah (Algeria), Abbas Bonfoh (Togo) …
John Magufuli, ex-president of Tanzania – March 17
John Magufuli, nicknamed the "Bulldozer", the former Tanzanian president (2015-2021) died in office on March 17, 2021, at the age of 61, a few months after his re-election for a second term. Known for his skepticism towards Covid-19, the Tanzanian president is said to have died of the virus.
Didier Ratsiraka, ex-president of Madagascar – March 28
Former Madagascan President Didier Ratsiraka died on March 28 in Antananarivo from a flu at the age of 84. Nicknamed "the Red Admiral" because of his career and his ideology, the founder of the Socialist and Nationalist Party Arema led the Big Island twice: 1975-1993 and 1997-2002.
Idriss Déby Itno, President of Chad – April 20
The Marshal of Chad, Idriss Déby Itno, died on April 20, 2021 in N'Djamena
consequences of wounds in combat against the rebels of the Front for alternation and concord. His death, at the age of 68, came just days after his re-election to a 6th term at the head of Chad and after 31 years in power.
Kenneth Kaunda, Former President of Zambia – June 17
Former Zambian President Kenneth Kaunda died on June 17 in Lusaka. Zambia's father of independence ruled the country from October 1964 until November 1991 when it was defeated in the presidential election to Frederick Chiluba.
Hissène Habré, ex-president of Chad – August 24
Hissène Habré, President of Chad from 1982 to 1990, died on August 24 of Covid-19, in Dakar, Senegal, where he had been imprisoned for crimes against humanity since 2016, following his conviction by an exceptional court set up by the African Union.
Abdelaziz Bouteflika, ex-president of Algeria – September 17
Former Algerian President Abdelaziz Bouteflika died on September 17 in Algiers at the age of 84. President of Algeria from 1999 to 2019, Abdelaziz Bouteflika was in his time the youngest foreign minister in the world at 25 years old. He was forced to resign in 2019 by the Hirak movement while seeking a 5th term.
Frederik de Klerk, ex-president of South Africa – November 11
Frederik de Klerk, the last white president of apartheid South Africa, Nobel Peace Prize winner, died on November 11 at the age of 85. This National Party apparatchik helped end apartheid, alongside Nelson Mandela. He ruled South Africa from 1989 to 1994. In a posthumous video, Frederik se Klerk ended up publicly and bluntly condemning the apartheid regime.