News
Rwanda: "Green City Kigali", the $5 billion green city launched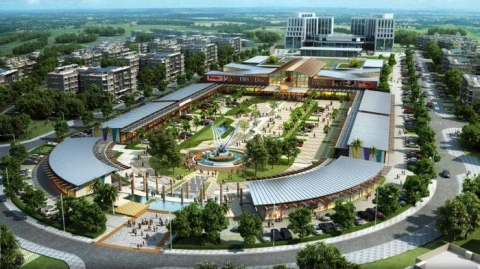 #Other countries : Blocked by the Covid-19 pandemic, the Green City Kigali project, the green city of Kigali, has just been launched. The pilot phase has been started and the project, renamed "Wakanda" by the Rwandans, will require a total cost of 5 billion dollars.
After the launches of the Kigali Innovation City, a sort of African "Silicon Valley", and the Kigali International Financial Center, Rwanda, a country of services, now wishes stand out as one of the benchmarks in terms of the environment and sustainable development.
The country's authorities have just launched the pilot phase of the ambitious Green City Kigali project (Green City of Kigali), renamed "Wakanda" by Rwandans in reference to the American blockbuster Black Panther, most of whose action takes place in the imaginary kingdom of Wakanda.
Once completed, Green City Kigali, a 100% sustainable city, will house several thousand homes built from local sustainable materials. The city will be powered by solar energy and biogas thanks to a sustainable waste treatment unit that promotes recycling. Similarly, a wastewater and rainwater collection system will be put in place and the water will be treated and reused through industrial-scale storage tanks.
>>> READ ALSO: Rwanda: Kigali to build Africa's largest "Silicon Valley"
In addition to housing, Green City Kigali will include many commercial establishments and connected offices able to accommodate innovative companies, integrated craft production centers, etc.
Urban forests will be preserved and extended at the city level and residents will circulate in electric vehicles. Tracks for bicycles and electric motorcycles will also be developed. Even better, there are even plans to install cable cars for public transport.
At a cost of 5 billion dollars, this green city which will be built on an area of ​​620 hectares in the suburb of Kinyinya Hill, will benefit from the financial assistance of several partners. These include, among others, the German Development Agency (Kfw) and the Green Climate Fund (GCF). The pilot project which has just been launched covers an area of ​​16 hectares and will allow the construction of ecological habitats for approximately 8,000 people.
>>> READ ALSO: Rwanda: Kigali, a young city in the pantheon of major African cities
In order to facilitate access to housing in Green City Kigali for as many people as possible, innovative credit and loan systems (rent-purchase) will enable low-income people to obtain financing to enable them to buy affordable housing. And the poorest will benefit from social housing.
Through this innovative project, Rwanda shows its commitment to promote sustainable cities and demonstrates that it is possible to ensure sustainable urban development on a large scale. Green City Kigali could serve as a catalyst for the construction of other new green cities both in the country and in the rest of Africa. Likewise, it will help reduce the country's housing deficit and fight against unplanned urbanization.
Kigali is already considered the greenest city in Africa. And through this new project, Rwanda intends to significantly reduce the impact of climate change.