News
Senegal: Touba coffee, a source of income for many young people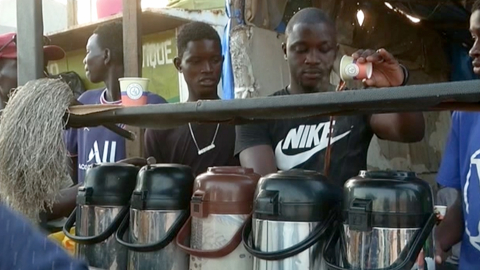 #Senegal : In several regions of Senegal, coffee spiced with Guinea pepper, called Touba coffee after the name of the holy city, is sold in the street in cups at 50 FCFA (10 euro cents). Thousands of people, especially young people, earn their living through this activity.
The noise of the machines and the strong aroma it gives off lead us straight to our destination: where coffee goes from grain to powder. Here at the Keur Massar market, the famous hot drink that the Mourides love goes through a whole process before becoming this coffee with the spicy taste that makes it so special.
After the market, the street. Here, it has almost become a habit to see people seated or passers-by with their cups of coffee. Sold at 50 FCFA for a small cup by vendors who also have their own secret to better bring out the aroma, Touba coffee has a taste appreciated by all.
>>> READ ALSO: Video. Ivory Coast: ICHICAO wants to democratize the consumption of chocolate and coffee
Coffee beans are now imported from Côte d'Ivoire. But according to what they say, it was Cheikh Ahmadou Bamba, founder of Mouridism, who, returning from exile in Gabon, brought this coffee, helping to make it popular in Senegal.
The sale of Touba coffee has been attracting citizens from the sub-region, especially Guinea, for years. This flourishing activity requires only a small initial financial investment, while the daily earnings amount to thousands, even tens of thousands of CFA francs.
Today, the Touba coffee sellers certainly earn their living, but believe they still have a long way to go, especially for the modernization of their activity.