News
Sex against good grades: a new scandal, this time at the ENCG of Oujda
The scandals linked to the cases of "Sex for good grades" are resurfacing. This time, it is a professor at the ENCG of Oujda who allegedly asked one of his students for sexual favors in exchange for good grades and semester validation.
The Oujda National School of Business and Management (ENCGO) is at the heart of a sextortion scandal. The case came to light after the large-scale Twitter broadcast on the evening of Monday, December 27, 2021, of sexual discussions between a professor and one of his students.
On the menu, erotic messages, like "you want a validation, come and have a blowjob session", sent by this teacher, via his Facebook account, to one of his learners, flooded social networks.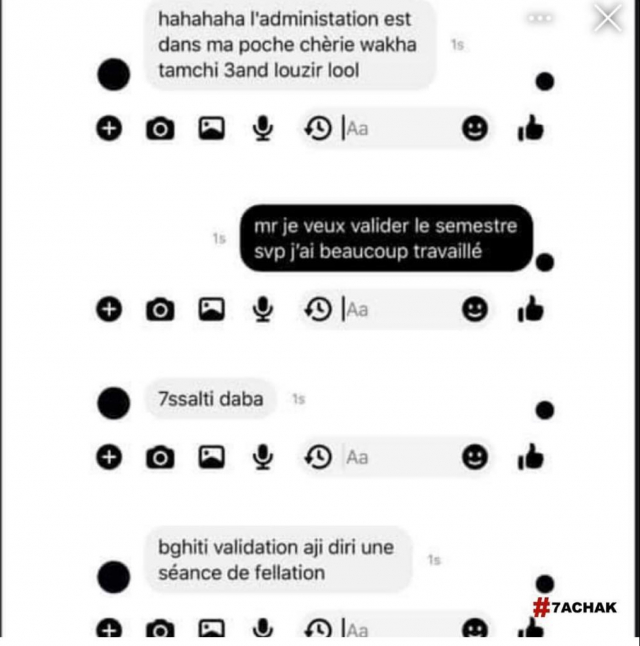 © Copyright: DR
Following this case of sexual blackmail, the Association of Students of the ENCG Oujda (ADE ENCG Oujda) and the Association of Laureates of the same establishment (ENCG Alumni), published yesterday, Monday, December 27, a joint statement. to the president of the Mohammed Premier University of Oujda and to the director of the ENCG, denouncing "all forms of discrimination and sexual harassment", as well as "any form of defamation".
The two organizations also invite the administration to "accelerate the investigation and confirm or deny the content of the message", anonymously, while ensuring "to preserve the dignity of students, laureates and teachers".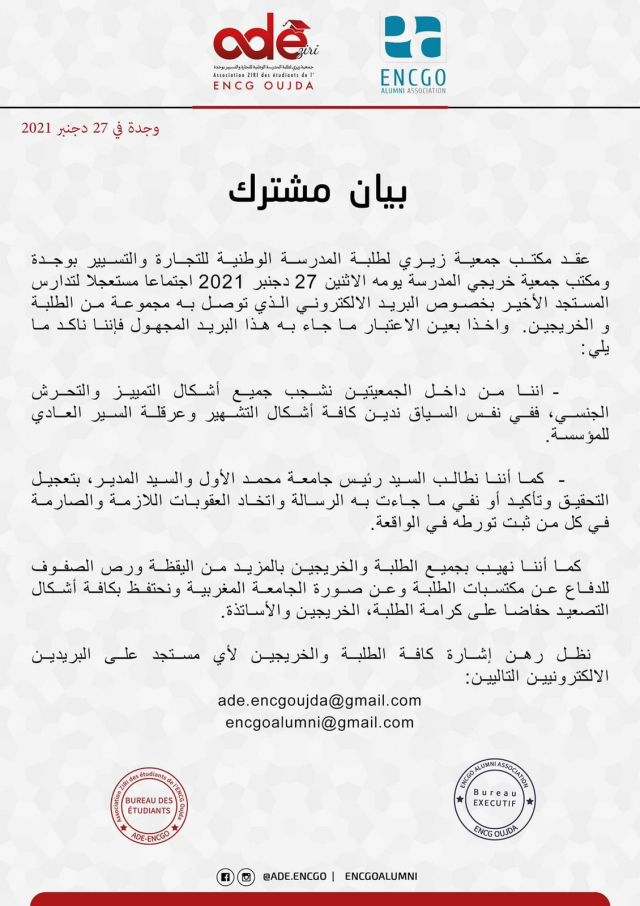 © Copyright: DR
A case quickly shared on Instagram, by the page @ 7achak.maroc, to 40,000 subscribers, who did not hesitate to appeal for help, in the same evening, after the dissemination of these messages of a sexual nature.
For their part, the students of the university demonstrated this Tuesday, December 28 in front of the door of the ENCGO, in solidarity with the alleged student, chanting slogans against any attack on the dignity of the students.
Aware of the gravity of the situation, the presidency of the Mohammed Premier University of Oujda took the initiative to denounce, too, any act that would undermine the dignity of students, while guaranteeing their rights, in order to offer them good study conditions, she said in a press release released on Tuesday, December 28.
As such, the ENCG has decided to set up a platform where students can submit their complaints, in addition to setting up a committee made up of professors and a psychiatrist. It also indicates providing legal assistance and support when needed, establishing a toll-free number to communicate and report such incidents, and provide students with an email address to receive their complaints.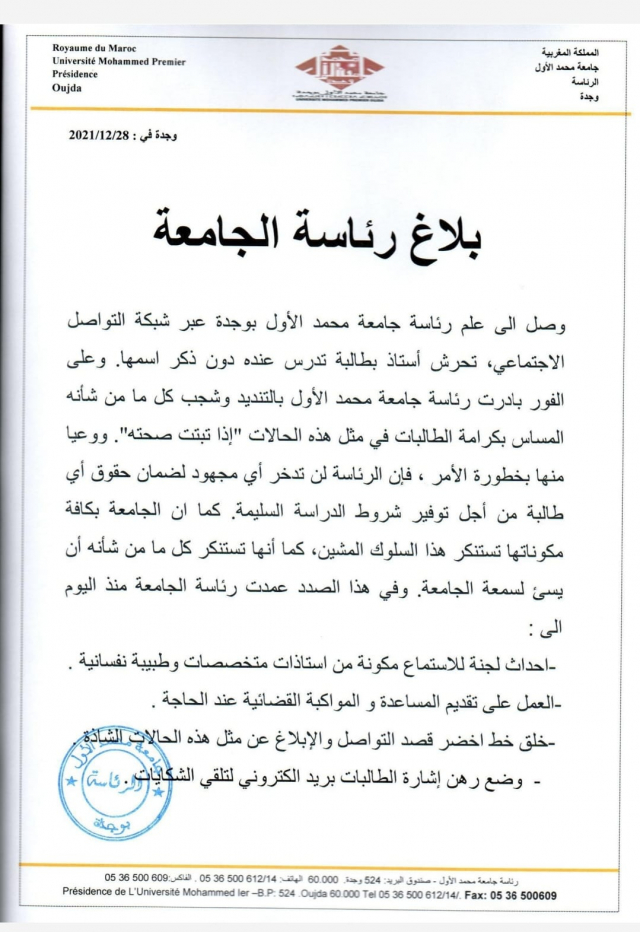 © Copyright: DR
This new case, which shook the ENCGO, provoked strong reactions among Internet users, who unanimously condemn these abusive practices at the university.
Case to be continued!
Source link