sport
Slide. First gallop of Ziyech with the Lions under the leadership of Regragui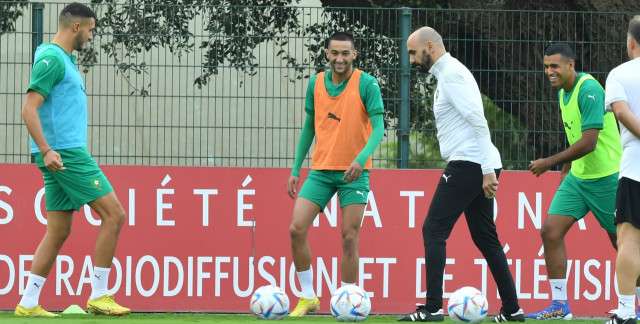 The Atlas Lions are complete. They carried out, this Tuesday, September 20, their second training session under the leadership of national coach Walid Regragui. The session was attended by Hakim Ziyech. The details.
Exempt from the training session on Monday, September 19, devoted to scrubbing, Hakim Ziyech trained today with the group at the Mohammed VI Football Complex in Maâmora.
Yesterday, it was mainly a question of making contact between the players and the technical managers freshly appointed among the staff of the national team. Walid Regragui took the opportunity to explain his vision of things and what he expects from his foals.
According to echoes from the Mohammed VI Football Complex, the atmosphere is good-natured. "A climate of serenity reigns within the Atlas Lions, and all are filled with optimism at the idea of ​​living this new blood within the national team", declares a source close to the national team.
Also Read: World Cup 2022: FIFA Reveals 5 Atlas Lions To Watch In Qatar
In the exemplary setting of the Mohammed VI Football Complex, the Atlas Lions have reconnected. Those who had no longer walked this stadium as well as the newcomers exchanged on the field, ball at their feet. And the agreement was rather cordial.
The Atlas Lions will play two friendly matches against Chile, on September 23 in Barcelona and Paraguay, four days later in Seville. For the occasion Regragui called on 31 players, saying that "the door of the national team remains open to everyone".
Spain's friendly matches should give an idea of ​​the new-look national team, version of Walid Regragui, who, after his appointment, brought calm and serenity back to the fans.