News
Solar pumping for green agricultural irrigation: Morocco's rich potential exposed by AMEE
By Khalil Ibrahimi on 09/21/2022 at 12:09 p.m.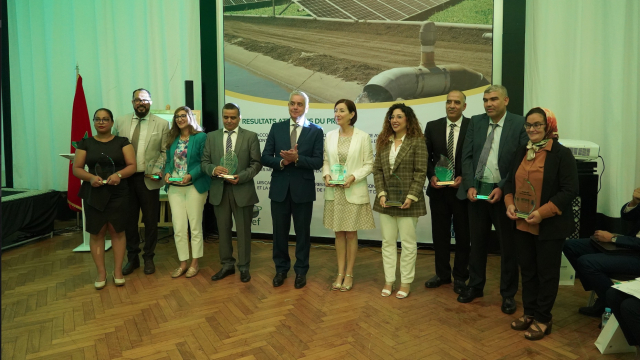 Closing workshop of the support project for solar pumping in agriculture organized by the AMEE, in partnership with the UNDP and the GEF, on September 20, 2022, in Rabat.
© Copyright: Khadija Sabbar / Le360 (Video image capture)
VideoThe AMEE organized, Tuesday, September 20, 2022 in Rabat, in partnership with the United Nations Development Program (UNDP) and the Global Environment Facility (GEF), a closing workshop for the solar pumping support project in agriculture.
Objective of this workshop: to present the key results and the tools developed within the framework of the project for an appropriate development of solar pumping in the field of agricultural irrigation and to discuss the opportunities for capitalizing on its achievements for future generalization.
After four years of its implementation by the AMEE, in partnership with the UNDP, and with the financial support of the GEF, all the activities initially programmed at the level of the various axes and products of the project have been deployed. The main target results were also achieved and even exceeded, in a particularly difficult context marked by the Covid-19 pandemic, which characterized the last two years of the Project.
These four years have been focused on raising awareness of the strategic challenges of the solar pumping market in agriculture and the development of the tools necessary for adequate support of this market, through the promotion of the quality of equipment and installations, training and capacity building for stakeholders in the sector as well as tools for monitoring and evaluating the environmental impact of solar pumping, particularly on water resources.
The PSIA – GEF/Solar pumping project is part of the national energy transition strategy and is one of the energy efficiency measures proposed for the agricultural sector. It has set itself the overall objective of setting up a framework conducive to the development of the solar pumping market, through the following main axes:
– the upgrading of the professional sector for the development of a high quality market, through systems of standardization of equipment, training and labeling of installation operators;
– institutional capacity building for market structuring, through support, financing and incentive tools and mechanisms;
– the implementation of a framework for monitoring the impact of solar pumping on greenhouse gas emissions and the management of water resources.
Source link