News
Souss-Massa: the region relies on women's leadership to boost the local economy
By Ismail Benbaba on 09/15/2022 at 7:19 p.m.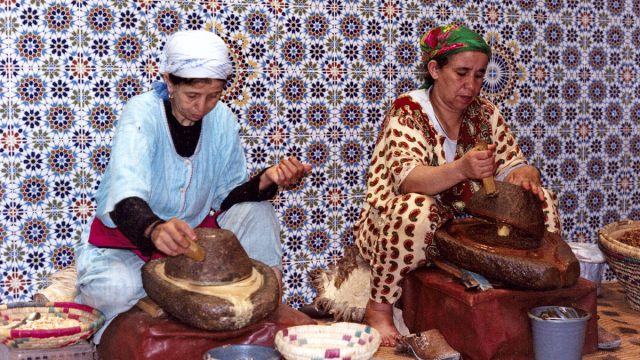 Women extract oil from argan nuts.
© Copyright: DR
Kiosk360. More than a hundred women leaders of cooperatives in the production of argan oil in particular will benefit from a training program on "Production techniques and labeling" and "Challenges of renewable energies". This article is a press review of the newspaper Today Le Maroc.
Good news for cooperatives in the Souss-Massa region. Today Morocco indeed reports in its delivery of the day that the Mohammed VI Foundation for the research and preservation of the argan tree (FMVIRSA) is launching a training program on "Production techniques and labeling" and "Challenges of renewable energies" for the benefit of 120 women leaders of cooperatives in this region.
Note that FMVIRSA intends to protect argan trees and the rights of argan women, who often organize themselves into argan oil production cooperatives. It should be recalled that the FMVIRSA is accredited with the United Nations Economic and Social Council (Ecosoc) as a consultative member with special status (2013), and with the Green Climate Fund (2017) having coordinated with the State with Unesco the traditional know-how related to the production of argan oil as intangible cultural heritage (2014).
The daily specifies that the FMVIRSA has implemented the project Argan and rural women committed to inclusive economic development and the climate (Faredeic). Note that this is a program that aims to build the capacity of women and their organizations to boost the local economy through solar solutions and sustainable production methods adapted to rural areas, through the deployment of a training program in management, marketing, leadership and solar techniques for 600 women, including 120 cooperative leaders.
It is thus a question of enabling women to actively contribute to the sustainable development of their territories and to increase their income. In details, Today Morocco explains that the overall objective of this program is to contribute to the inclusive and climate-resilient development of territories and to the recognition of the role of women in the energy transition. This, continues the newspaper, requires the strengthening of their place in the renewable energy sector by the creation of two women's energy cooperatives as well as by supporting women organized in cooperatives towards sustainable production and management methods and their involvement in local politics.
Thanks to this new program, these women will receive ongoing training that will help them obtain certifications and labels, and comply with the requirements selected by the ADA to participate in national and international events…
Source link