News
South Sudan minimizes the importance of its meeting with a Polisario delegation
LSouth Sudan clarifies things. In a letter dated September 23 and signed by the Minister of Foreign Affairs of South Sudan, Mayiik Ayii Deng, the South Sudanese diplomacy reaffirms the will of his country to "further develop its relations with Morocco in the mutual interest of the two countriess". But more importantly, in view of recent developments, Juba affirms not to recognize the Polisario and specifies that it recognizes only "UN member countries". An official document which therefore contradicts the affirmation of certain media according to which a meeting held between a delegation from South Sudan and another from the Polisario on September 20 would have constituted the establishment of a diplomatic relationship.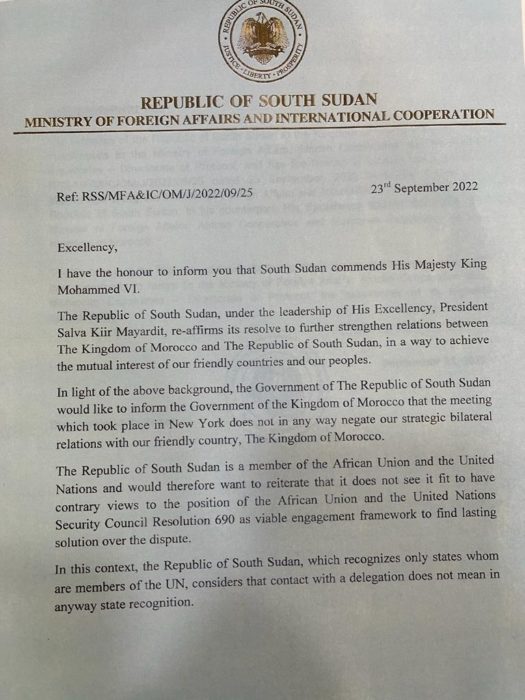 In this missive delivered to the Minister of Foreign Affairs Nasser Bourita, this meeting is defined as a "contact with a delegation". Morocco has not publicly reacted to this meeting which was held on the sidelines of the United Nations General Assembly.
As a reminder, King Mohammed VI traveled to South Sudan in February 2017 to meet the President and current Head of State, Salva Kiir. In addition to humanitarian donations, and the setting up of a field hospital in the youngest state in Africa, the two countries sealed an agreement on this occasion to experience sharing in the framework of the construction of a new capital in South Sudan in terms of urbanization and more specifically urban development, with a view to supporting the construction of a new capital.
Source link