News
The calls between Lekjaa, Laporta and Xavi, his summons, his choice for Spain: chronology of the Ezzalzouli affair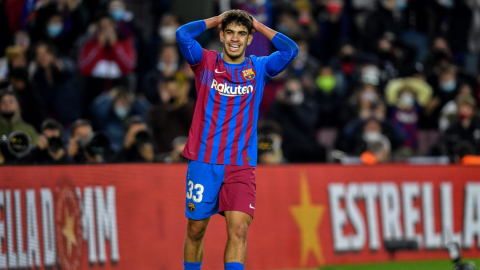 Abde Ezzalzouli is back on his initial choice to wear the colors of the Atlas Lions, despite his summons for CAN 2021. Here is the detailed chronology of the change of mind of the right winger of FC Barcelona.
After wearing the colors of Atlas lion cubs U20, and convincing first steps with Barça, Abde Ezzalzouli finds himself a surprise guest on Vahid Halilhodzic's list, on Thursday 23 December, for the imminent 2021 Africa Cup of Nations (9 January-6 February).
But before he finds himself in the list of the Franco-Bosnian technician, the player exchanges, by phone, with Fouzi Lekjaa, president of the Royal Moroccan Football Federation (FRMF).
The native of Béni Mellal clearly indicates to him his wish to represent Morocco and directs him to Joan Laporta, president of the blaugrana club, to obtain an agreement. It is a pure gesture of courtesy, the clubs having no right to retain a player summoned for a competition recognized by FIFA and included in its calendar.
Lekjaa and Laporta speak to each other three times and the Catalan president is also in favor of Ezzalzouli's participation in CAN. Xavi, Barça coach, is not opposed to it either.
So, until Wednesday, December 29, Abde Ezzalzouli will participate in the 33rd edition of the Africa Cup of Nations with the Atlas Lions.
But everything changes when the player obtains Spanish nationality, that very day. His agent, who is also his brother, then sends a letter to the FRMF, which he signs himself, announcing the unexpected withdrawal of Abde Ezzalzouli.
The Federation then relies on the legal authorities to decide on the legality of this change of nationality of the formerLion cub. A lawyer who has already been dispatched to seize FIFA and CAS.
Regardless of the verdict of these bodies, the FRMF applies the principle dear to the national coach, Vahid Halilhodzic: "the national team is above all and all".
However, questions remain: has the player been pressured by his club and the Spanish Federation? Did he simply postpone his first appearance in the colors of the Atlas Lions to earn his place in the Catalan club? Response in the coming months …