News
The CDG Group Institute scrutinizes sustainable development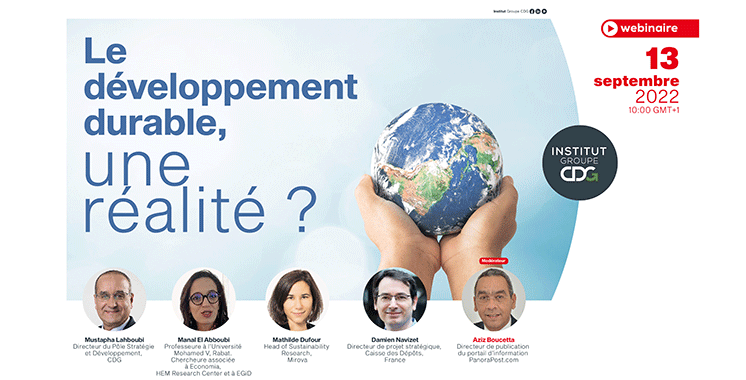 A webinar was recently organized on this issue
The CDG Group Institute and the CDG Group's Strategy and Development Division organized a webinar on September 13 on the theme "Sustainable development, a reality". This panel was moderated by eminent experts. The webinar was attended by Adnane Chekli, Director of Strategy and Programs at CDG, Manal El Abboubi, Professor at Mohammed V University, Rabat and associate researcher at Economia, HEM Research Center and EGiD, Mathilde Dufour, head of sustainability research at Mirova, and Damien Navizet, strategic project director, Caisse des dépôts de France. This meeting was an opportunity, among other things, to return to the very notion of sustainable development as defined by the Brundtland report in 1987. This same document qualifies the notion of sustainable development as "development that meets the needs of the present without compromising the ability of future generations to meet theirs.
As part of this seminar, the speakers tried to answer various questions, in particular those related to how to make sustainable development a reality, to avoid falling into greenwashing and to commit more to sustainability. of the planet. They also set out to think about the necessary levers allowing the alignment of economic actors with the principles of sustainability. This webinar also made it possible to outline the different approaches adopted in terms of the environment by companies. The speakers were unanimous in considering companies as major contributors to sustainable development issues through their policies in this area, particularly on aspects related to social responsibility (CSR) and their managerial strategies.
It has been observed that companies are increasingly beginning to integrate, on a voluntary basis, the various social and environmental concerns into their business activities. The speakers considered that today's companies should, in addition to being economically viable, ensure that they produce a positive impact on society while respecting the environment more. The interventions made it possible to bring out several observations on which there was a consensus among the guests: one of the ways of development and future improvement is the training of the citizens of tomorrow in the challenges of sustainable development from early childhood.
This will make it possible to have a generation of citizens (investors, managers, educators, etc.) imbued with the convictions of protecting the planet and therefore to have sustainable and responsible economic models. The other path to improvement is cross-functionality in practice, which encourages the company to move from "CSR management" to "management by CSR" which consists of rediscovering the principles of sustainable development throughout functions of the organization (HR, Marketing, etc.) and not only at the level of the unit in charge of sustainable development.