News
The government is considering important initiatives in favor of the Amazigh language, according to Mustapha Baitas
Through Mohamed Chakir Alaoui and Brahim Moussaaid the 12/30/2021 at 6:01 p.m.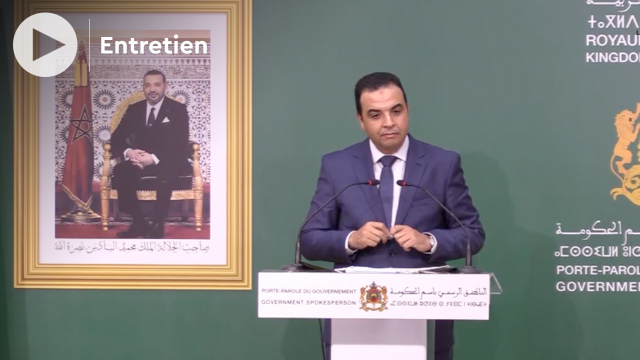 Mustapha Baitas, government spokesperson, during the press briefing held after the weekly meeting of the Governing Council, returned to the importance of the Amazigh language and culture, Thursday, December 30, 2021.
© Copyright: Brahim Moussaaid / Le360
The government, through its spokesperson Mustapha Baitas, expressed, this Thursday, December 30, 2021, its commitment to give the Amazigh language and culture all the importance and interest they deserve. The details.

"There will be special attention to the new Amazigh year 2971 which will be celebrated on January 12, 2022, as well as other initiatives," said the government spokesperson during the press briefing held after the weekly meeting of the Council of government.
Mustapha Baitas did not at all mention the demand of certain NGOs to make Amazigh New Year's Day a public holiday. "There is not only the stage of the celebration of the Amazigh New Year, there will be for this language other novelties, initiatives and rich activities in the months to come", assured Mustapha Baitas in response to a question.
The Minister Delegate in charge of Relations with Parliament also answered several questions relating to the epidemic situation in Morocco, the closure of borders as well as the strike of lawyers in protest against the vaccine pass.
Before providing the positions of the Executive on these questions, the spokesperson elucidated the questions that arise among millions of parents of students who wonder if the resumption of classes will take place next Monday, January 3 2022, or not.
Mustapha Baitas, in fact, replied that there would be no extension of the school holidays, studies should resume without any postponement on January 3. "The return to school must take into account the monitoring of the crisis situation at the local and regional level by associating the various external services", specified the Minister.
Regarding the pandemic at the national level, the government official referred to the increase in contaminations noted in recent days.
"The situation is not worrying, but the contamination is progressing and it is for this reason, according to him, that the borders will remain closed until further notice", he observed. "The government will reassess its decisions based on the pandemic situation," he said. As for the issue of anti-vaccine pass lawyers who refuse to plead in court, the spokesperson insisted on the "ongoing dialogue" between the different parties. "I hope this dialogue will be successful," he concluded.
Source link