News
The hype of babenda, the dish of the underprivileged – Jeune Afrique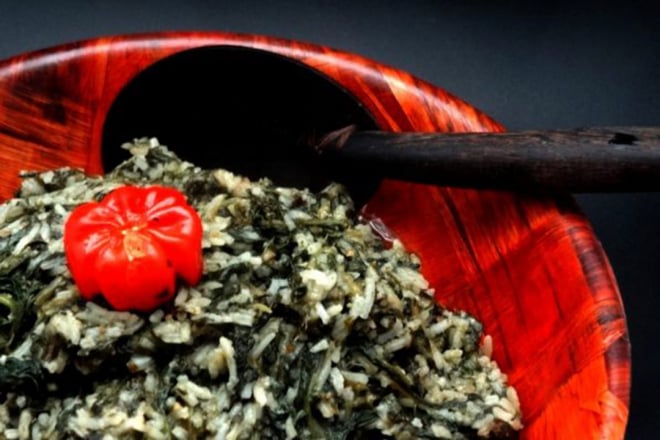 Praise for greedy Africa (1/6). This mossi dish does not look great. But in a Burkina Faso in search of authenticity, it now arouses less mockery than respect.
Forty-five minutes of preparation and one hour of cooking. Three heaps of sorrel leaves and as many bonronbourou leaves. A little fine peanut powder, half a glass of rice, enough onions, soumbala, salt, chili, potash, oil and, why not, shea butter or remaining sifted tamarind. Wash, cut, pound, soak, boil in a studied order, soak, crush, stir tirelessly and you get this dish of the Mossi ethnic group known as "babenda". Literal translation ? "Baag benda" means "dog's underwear".
Originally called "zê arsenga" (fluid sauce), the dish was hardly glamorous. Its modest cost price, its variable-geometry recipe and the circumstances of its consumption – the thorny lean period in disadvantaged areas – have earned it some mockery which has given rise, without unequivocal explanation, to this nickname of dog breeches.
Burkinabè standard
But glamor is conquered and legends are built. Revived by the trial of the alleged assassins of charismatic Captain Thomas Sankara, the current cult of Sankarist ideology relays the injunction "consume Burkinabè", for the double imperative of economic independence and national pride. Babenda "roots" then appears in the list of Burkinabè banners such as faso dan fani textiles or warba music. And the national appeal turns into an international fascination. The "boxer shorts" was renamed "leaf stew" by the singers of the flowered Francophonie. The trendy sites of exotic dishes present more or less modified recipes. Sometimes served without dried sardines, babenda can even surf vegan and organic trends …
And here, on the digital forums, the members of the diaspora of Faso who salivate from afar, entangled as they are between the tartiflette and the Auvergne hotpot: "It's been a long time since I ate babenda and I I want it too much. Unfortunately, it can only be found in the land of upright men. »Scarcity as the ultimate sign of trendiness? Babenda does not appear on the menus of western restaurants than thieboudiene or the ndolé, yet Cameroonian double of the babenda.
Is the dish of the Burkinabè deprived in the process of becoming hype ? It has already been taken to the pinnacle by academics. A doctoral student in food and nutritional sciences devoted a thesis to him a few months ago. During his defense, Bakary Tarnagda recalled that this dish rich in vitamin C, lipids and proteins – laxative, moreover, in case of constipation – helped the people to overcome the famine of 1970. He claims no less than a inscription of babenda "on the list of cultural heritage of Unesco".
The scent of recognition obviously arouses political recuperation. Posture? In official buffet ceremonies, it is fashionable to demonstrate the attachment to the village roots of your public department, by positioning babenda between the steamed potatoes and the chicken bicycle. And the politicians interviewed slip, with the fervor and communicative spontaneity that we know them, "the dog's underwear" in Chinese portraits. Opportunistic gourmets? Lovers of the last hour? Sincere nostalgic, at the time of graying temples? The fact-checkers should also question the village elders to verify whether these men of power valued the babenda as much when they were children …
Source link