News
The Moroccan Ambassador received by the Malian Head of State, Assimi Goïta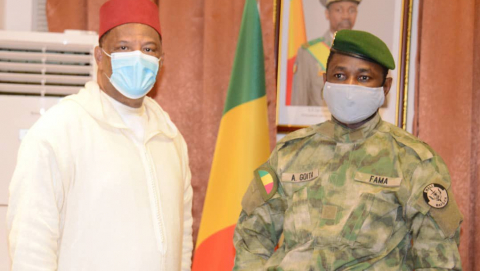 #Mali : Having to leave Mali soon at the end of his mission, the Moroccan ambassador in Bamako was received by the Malian head of state, Assimi Goïta, this Tuesday, December 28, 2021.
It is a rich mission which ends for Hassan Naciri, the Moroccan ambassador in Bamako. This Tuesday, December 28, 2021, he was received in audience by the Malian Head of State, Colonel Assimi Goïta.
Hassan Naciri took this opportunity to thank the authorities as well as the people of Mali who kindly helped him in the accomplishment of his mission. A mission of ten years, since the Moroccan diplomat has been stationed in Bamako since January 2012.
During this mission, Hassan Naciri was a witness and actor of major changes in the country, never hesitating to promote fraternal and centuries-old relations between the two peoples and the two countries. It is, nevertheless, confident that he claims to say goodbye to the host country.
>>> READ ALSO: Video. Mali: Moroccan Ambassador Hassan Naciri optimistic about the success of the transition
"I am leaving Mali in the midst of political reforms, of refoundation. I am completely optimistic that these projects will succeed and allow Mali to consolidate its democratic gains, to set up new paradigms of governance and good business management, "he said.
Tomorrow, Wednesday, December 29, a reception will be organized in the new premises of the Moroccan diplomatic complex on the right bank of the river in Bamako, om several foreign ambassadors as well as local dignitaries should be present.