News
The painter Houssein Miloudi is dead
By Youssef Bellarbi on 09/15/2022 at 1:30 p.m.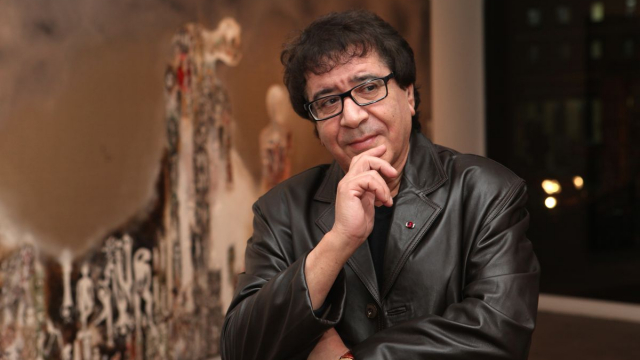 Houssein Miloudi during his exhibition "Nostalgie", at Atelier 21.
© Copyright: Le360
One of the great figures of Moroccan painting, Houssein Miloudi, died on Thursday September 15 in Rabat.
The painter Houssein Miloudi died on Thursday, September 15, at the military hospital in Rabat, Le360 learned from his relatives. Admitted to this establishment 48 hours ago, due to a long illness linked in particular to sciatica, the painter passed away this Thursday around 11:00 a.m. at the age of 77.
Considered one of the major figures of painting in Morocco, and one of the leading artists of the city of Essaouira to which he remained attached all his life, Miloudi leaves behind him an atypical work, among the most distinguished in plastic arts in Morocco.
The artist stood up for a long time, alone, against the fashion of the so-called naive painters who flourished in the city of Essaouira.
Houssein Miloudi started drawing at the age of 5. Between the ages of 14 and 16, he painted pictures inspired by amulets and Moroccan rural art. His first exhibition dates back to 1968, in Marrakech, at the age of 17.
The art critic Azzouz Tnifass describes the artist in these terms: "Miloudi is definitely one of our greatest painters. It is up to the best, Gharbaoui and Cherkaoui included. From now on, we have to consider him as such, despite his apparent shyness which scares him away from the media while protecting him in his studio overlooking the ocean. He succeeded well alone in his corner, to give appearances to our mysteries and that will count in the history of our culture. Moreover, poets sensitive to the sublime all like to frequent it.
Miloudi's works have integrated several prestigious collections, museums, foundations and institutions in Morocco, Europe, United States, Japan…
The artist had been preparing for three years a major exhibition at the Atelier 21 gallery, Casablanca, which represented him. The sudden disappearance of the artist leaves this project unfinished and deeply saddens the many friends and collectors of the artist who appreciated the high idea he had of art and his implacable radicalism when it comes to aesthetics.
Source link