News
Tindouf camps: the Polisario destroys the school system to enroll children
By Hassan Benadad on 09/21/2022 at 8:41 p.m.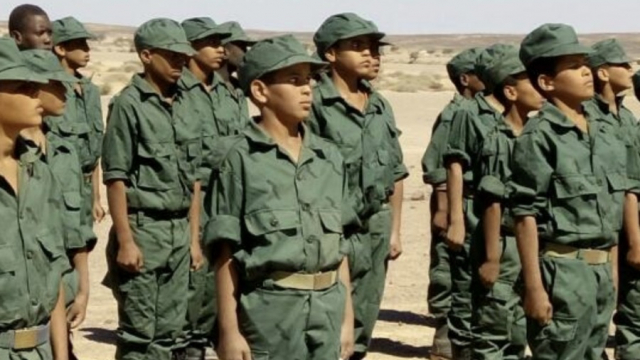 Child soldiers in the Tindouf camps.
© Copyright: DR
Kiosk360. The Autonomy Support Forum condemned the enrollment of children in the Tindouf camps. FORSATIN accuses the Polisario of destroying the school system to force them to join the armed militias. This article is a press review taken from the daily Al Ahdath Al Maghribia.
After the Al Wahda network for international development, it is the turn of FORSATIN (support forum for the autonomists of Tindouf) to denounce the enlistment of children in the Tindouf camps. In its edition of Thursday September 22, the daily Al Ahdath Al Maghribia reports that, according to the opponents of the Polisario, "the leaders of the separatists are taking advantage of the collapse of the school system to push the children to integrate the armed militias, while their own children benefit from an adequate education outside the camps". Moreover, the UN special envoy to the Sahara, Staffan De Mistura, noted during his penultimate visit to the Tindouf camps that dozens of children were wearing military uniforms.
The NGO Al Wahda had sent a letter to the Human Rights Council in Geneva to condemn the despicable practices employed by the Polisario and Algeria against children in the Tindouf camps. The letter further called on the international community to condemn these war crimes committed by Algeria and its armed militia. The network also asked the United Nations High Commissioner for Refugees (UNHCR) in the Tindouf camps to "take all preventive measures to protect Sahrawi children against exploitation and military recruitment activities".
The daily Al Ahdath Al Maghribia points out that the Al Wahda network has found, with supporting evidence, that the children were forced to undergo military training in the Tindouf camps. They are subsequently engaged as soldiers, thus exposing themselves to all forms of violations and attacks on their physical and psychological integrity. Algeria becomes a co-perpetrator of this crime since this country is the first responsible before the UN for any violation of the rights of children inside or outside the camps of Tindouf, a city located on its territory.
From there, the network considers that "the Polisario and Algeria are jointly responsible for the violation of all the international references which frame the protection of the rights of the child, in particular the decisions of the Security Council on this subject". The NGO's letter has also drawn the attention of the UN and international public opinion to the involvement of Algeria and the Polisario in the crimes of enlisting children in armed militias. and their exploitation in the Moroccan Sahara conflict.
Source link